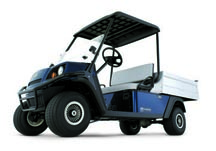 Cushman introduced a 72-volt version of its Hauler for professional turf managers who need a lot of power and stamina from their turf utility vehicle.
 
Powered by a 72-volt, AC electric drivetrain, the Hauler offers up to an additional 50 miles of range between charges compared with its 48-volt siblings introduced last year. And its AC Drive technology is designed to help the Hauler deliver consistent power throughout the duration of a single charge.
 
That 72-volt AC system also incorporates a lot of other operator-friendly features, such as speed control for consistent speeds over altering terrain, increased energy efficiency and regenerative braking that recharges the Haulers batteries whenever the operator engages the braking system.
 
An optional limited slip differential is designed to offer improved traction on wet or unstable turf to protect both the operator and turf surface.
 
The newest addition to the Hauler lineup that includes a total of four other gas- and electric powered vehicles, has a maximum load capacity of 1,000 pounds and comes standard with a 9.5-cubic-foot cargo bed. An optional 14.9-cubic-foot aluminum cargo bed will be available when the vehicle becomes available for delivery in mid-year.
 
Those who cant wait that long will be able to see it in person at the E-Z-GO/Cushman booth at the Golf Industry Show, which is scheduled for Feb. 6-7 in San Diego.