Renovation at Real Club De Golf Las Brisas
Exciting renovations have been taking place at Real Club De Golf Las Brisas in Marbella, Málaga, Spain.  The Director of Golf, Rafael Gonzalez-Carrascosa, shared details with me on what has been done and what is still in the works.
Five years ago it was decided to completely reform all 18 holes in two phases. The reform entailed:
New greens (design, soil, grass)
New tees complex (design, soil, grass)
New bunkers
Sewer system
Irrigation
However, initially in the redesign nothing in the fairways and roughs was done. The Bermudagrass on fairways were allowed to dry for 8 months and then irrigated to come back out. In roughs the same process was used and then the area was seeded with rye grass.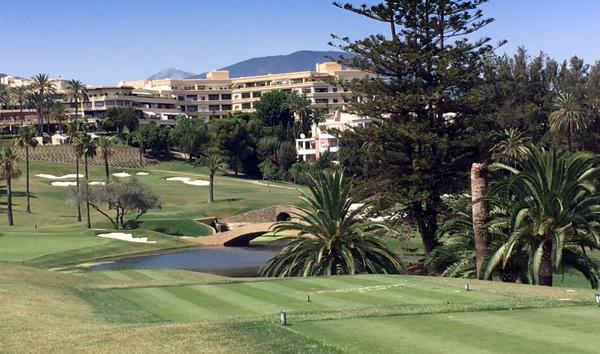 The first winter, all was beautiful with rye grass in the rough and reseeding because Bermuda fairways had no density. The first summer was chaotic. The rye grass completely died due to clayey soil and water salinity, leaving only Kikuyu grass (considered a weed) everywhere. The reviews were very harsh.
The second nine holes were renovated next in the same way that the first were done, with a few changes made to adjust for what was learned the first time around.  The addition of a 12cm layer of sand to the fairways and rough, and Bermuda sod placed wall to wall was done to kill the old Kikuyu and control it from the start.
The cart paths were redesigned to integrate more into the course and with better design for drainage. The areas where there is no irrigation were mulched with wood chips.
All of the results and feedback have been positive since the second phase of the redesign and people are happy.
Now they are going back to the first nine holes to use the knowledge gained through the process to correct some of the issues that initially occurred.  Also in the plans is to redesign the driving range/practice areas.
Learning about the process that this course has been going through reminds me that the golf industry has many connections and parallels, and to remember the importance of building relationships with my fellow superintendents in order to remain as knowledgeable as possible.