Golf Club della Montecchia: environmental commitment in northern Italy
This course, Golf della Montecchia, is located in the mountains of northeast Italy, east of Verona and close to Padua. The course has twenty-seven holes with A4 bentgrass putting surfaces, and a world renowned restaurant.  The superintendent is Brian O'g O'Flaherty.  
Golf della Montecchia stands apart in Italy for their
long-term commitment to the environment
. They have received numerous awards for environmental stewardship and have presented at many golf and environmental conferences around the world.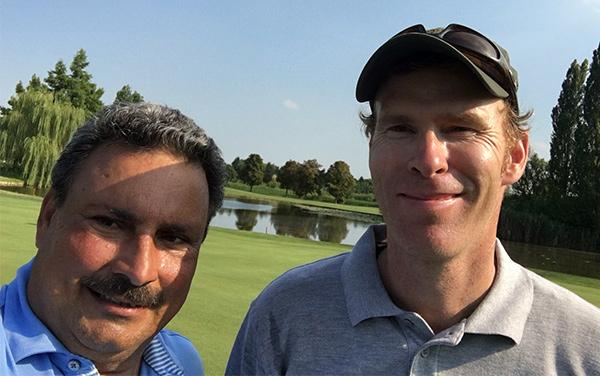 Me with Brian O'g O'Flaherty, course manager at Golf della Montecchia
With the trends in weather changing, they are receiving more warm weather and are experimenting with and implementing turf changes that can better handle the weather conditions.  The introduction in 2012 of Bermudagrass on fairways and tees helped to dramatically reduce water, fertilizer and pesticide use. Water consumption has been reduced by 70%, fertilizer use by 80% and pesticide use totally eliminated.
Nine of the holes on the course (the "White" course) are being maintained under an innovative project called "Biogolf".  This involves a maintenance and management protocol that was designed by various industry, university and governmental experts and focuses on organic practices, integrated pest management stressing minimal use of pesticides and establishing damage tolerance thresholds. 
Guests are notified of this initiative with signage on the course and asked to be considerate of any inconveniences that may arrive during the process of establishing this ambitious objective.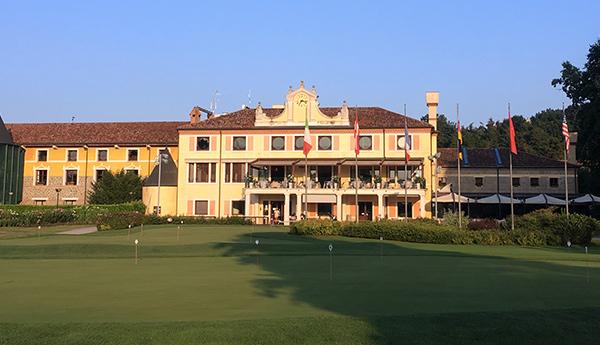 The clubhouse at Golf della Montecchia
I found the course to be in fantastic shape.  It is beautiful, with thick, towering trees lining some of the fairways. The superintendent and I really connected during this visit and we plan to communicate frequently in order to collaborate on issues facing both the golf industry and the courses we maintain.  This type of building relationships and collaboration is the precise reason I set out with the goal to visit courses and superintendents throughout different countries.  It is what will drive the continued success of the golf industry.