Sunday golf at Kingsbarns...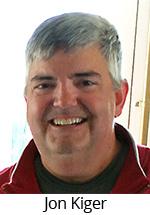 With everyone rested and settled in it was time for our first round of scheduled golf. We were lucky to play Kingsbarns Golf Links on the last open day of their season. Earlier this year the course hosted the British Women's Open yet there were few remaining signs of the infrastructure to host that event.
Kingsbarns lies just seven miles south of St. Andrews, so it was a quick trip there. The golf course opened in 2000 and occupies 1.8 miles of the North Sea coastline. It was designed by Kyle Phillips who ensured that you could see the North Sea from every hole. The course also had returning nines -- meaning that nine and 18 came back to the modern clubhouse -- a rarity in traditional links golf. Our own Dave Wilber was the agronomic consultant at Kingsbarns during construction. 
We were blessed with a sunny day for this round and everyone had a great time out on the links.

Butch Sheffield (in red) and John Brauer (rear) on the first tee at Kingsbarns.

Superintendent of the Year Finalists Brian Green (2nd left) and Mike Golden (far right) with Tripp Trotter of Syngenta and Mikes father Ray

David Whelchel getting the shot saver from the starter at Kingsbarns.