Beer & Pretzels, Scotland style!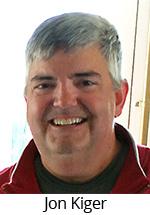 Mike Cook with The Care of Trees has been on so many TurfNet trips that he probably has a TurfNet trip shirt for every day of the week. His company usually hosts a get together on each trip and Sunday night was no exception.
St. Andrews Brewing Company is a short walk from our hotel. We tasted a variety of their beers and a few whiskeys and many of their appetizers. We had a private room and outstanding service from their staff including Robbie the manager.
It was the perfect way for everyone to meet and discuss the first full day in Scotland.

Tripp Trotter, Tim Pratt, and Kevin Collins relaxing after a "hard day" of golf

The Carolina Boys - Brian Green (SOY finalist, Lonnie Poole GC) and Butch Sheffield (North Ridge Country Club)

Maureen Gall, Diana and Kevin Frank, John Gall and Andy Campbell.

Robbie, the manager

The beer room at St. Andrews Brewing Company