Looking forward to GIS... or not
---
The Golf Industry Show is a few weeks away and I thought it time to assess the event in advance, at least in my mind's eye from my perch in the cheap seats. For what that's worth.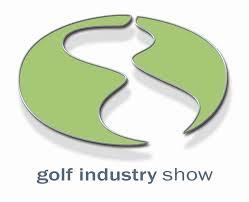 Nobody I've spoken with is anything more than underwhelmed with San Antonio as host city. Bad memories of travel experiences three years ago -- both to and from the iced-over state of Texas -- still linger
I never made it at all. My Monday afternoon flight was waylaid and the best the airlines could do was get me into SAT on Wednesday night, missing Beer & Pretzels on Tuesday as well as the first day of the show. Thank you but no, I'm going back home.
That may have been a blessing. Many others trying to get out of SAT on Friday after the show didn't get home until Monday. Not fun, no matter how one slices and dices it. And unnecessary.
San Antonio needs to go, even if it means bouncing back and forth biannually between San Diego and Orlando.
Registration numbers I've heard are below 3,000 superintendents this year, about half of the norm a few years back. The 20,000+ total attendees figure that was touted in the past has shrunk to 13,600 last year in Orlando.
Let's look at that number of superintendents for a second. GCSAA pitches the show to exhibitors on the basis of "qualified buyers", promising 6000 this year.  What is a "qualified buyer"? According to golfindustryshow.com, qualified buyers include: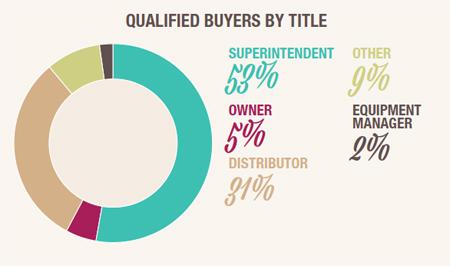 So only 58% of the promised 6000 are superintendents. There's your 3000 or so.
Well, 3000 is a lot of people if you put them all in one room. But divide an average exhibitor's investment in the show -- with increasing costs of booth space, carpet, shipping/setup, travel, hotel, meals -- by a declining number of potential customers and it continues to get evermore expensive.
Not only for exhibitors, but for attendees too. Can a superintendent get in and out of GIS for less than $2000, all in? More if one plays in the golf tournament.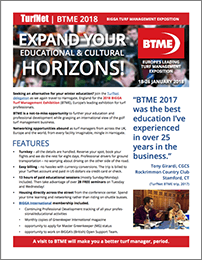 After putting numbers to paper and comparison shopping, 16 guys from across the country are with Jon Kiger over in England right now for the BIGGA show (BTME) starting this weekend, for pretty much even dollars
The package Jon negotiated and is hosting was $1850 (double occupancy) plus airfare... for 8 days, transportation, lodging, a few course visits, 13 hours of education and BIGGA membership. Six guys decided to go over early this week and visit St. Andrews, and all got to play the Old Course.
Rather than same-old-same-old, they're getting a new experience, international exposure, new contact, new friends among the group on the trip. All indications are that Jon will host another trip next year. (Me? I'm not real big on traveling, if you couldn't tell...)
So I missed San Antonio three years ago. I was delayed getting to San Diego the following year (walking into Beer and Pretzels at 8:00 with my luggage, direct from the airport). And I voluntarily skipped Orlando last year due to some personal issues.
The thing is, for those two shows that I missed, I actually found them much easier and more efficiently covered remotely, from home. Our guys (Kiger, Reitman, Ross, Wilber et al) emailed me items of interest, and I monitored the #GIS201x hashtag on Twitter to discover and then research products that others found of interest. So from the new product standpoint, no big deal, really. For our purposes, of course.
But I did miss the people, and therein lies the rub.
I am admittedly looking forward to certain things in San Antonio this year. Beer & Pretzels, of course, after missing two of the last three.
We are dedicating this year's B&P Gala to our late friend and TurfNet enthusiast/cheerleader, Jerry Coldiron. His wife Susan will be there, and we will be announcing the first Jerry Coldiron Positivity Awards from monies donated in Jerry's memory to the Jerry Coldiron Embrace Life! fund.

As always, I am also looking forward to the Superintendent of the Year presentation at the Syngenta booth on Thursday afternoon. Having the TurfNet logo right up there with one of the preeminent suppliers to the industry is one of my proudest moments of the year. And it's always great to shake hands with the finalists and the winner. There is, once again, a slate of great superintendents going to be honored.
Most years GIS is the only time during the year that Jon Kiger, John Reitman and I are in the same place, the group occasionally (and nicely) augmented by Eleanor Geddes. It's always fun to pause for a moment or a meal and reconnect, in person.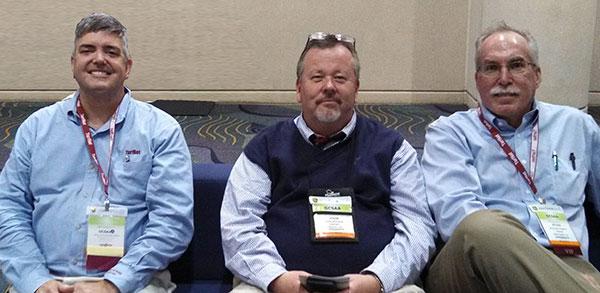 The TurfNet Trio, circa 2014
One of the gauges I use to assess the overall health of the industry is the number of parties at GIS. Rumor has it that several of the extravaganzas put on by the biggies in recent years have fallen by the wayside. That happens cyclically, it seems, but we always forge ahead with Beer & Pretzels. This year will be our 22nd, I believe.
If you're going to San Antonio and you see one of us on the show floor or elsewhere, say hey and introduce yourself (if we've never met). It's great to associate a face with a name.
Stay tuned for our show coverage during GIS week, and a likely recap here after the travel and show fatigue have subsided afterward.  We'll see how San Antonio as a host location and GIS in general hold up to further scrutiny this year.