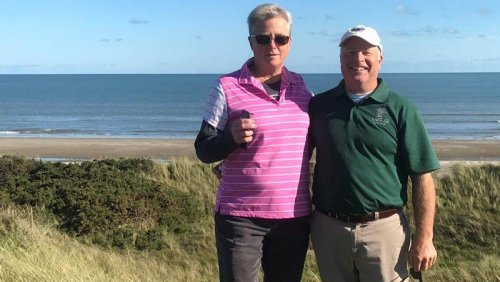 Cheryl and Matt Crowther during the 2018 TurfNet members trip to Ireland. Write a book about Matt Crowther's career as a superintendent during the past quarter-century, and it might as well be titled "A Tale of Two Golf Courses."
In that time, Crowther, 53, has honed his craft on exactly two Massachusetts golf courses. Although they are a short Cape Air flight from each other, they are worlds apart.
Crowther spent the first 23 years of his career developing environmentally sound best management practices at Mink Meadows Golf Club, a semi-private, nine-hole waterfront layout on Martha's Vineyard, and the tidal saltwater marsh that intrudes on the property from Vineyard Sound. 
For the past two years, he has been dodging hoards of golfers while trying to grow grass at daily fee Cape Cod Country Club, a 90-year-old Devereux Emmet-Alfred Tull design in Falmouth on the Massachusetts mainland. 
In 2020, the course was especially busy. Opening was delayed a little more than a month and was packed through October.
"I don't know how many rounds we did (in 2020), but I know that we did 200 rounds a day, seven days a week every month," Crowther said.
During this year's virtual Golf Industry Show, Crowther received the GCSAA President's Award for Environmental Stewardship for his work at Mink Meadows, where he worked from 1995-2019. He and wife Cheryl lived in an apartment above the clubhouse, making it difficult to divorce himself from the job.
"At Mink Meadows, I worked 45 hours a week. If you asked my wife she'd probably tell you it was 75," Crowther said. "The truth is probably somewhere in the middle. I lived above the clubhouse, so I worked the job. After I'd come home, I might go back out on the golf course at 7 o'clock."
Long before organic turf management became a trend on Martha's Vineyard, Crowther was practicing minimalist agronomics.
"I was out there doing that before Vineyard (Golf Club in Edgartown) was even built," he said.
At Mink Meadows, Crowther says he went years without spraying fairways. 
"Spraying insecticides or herbicides wall to wall always bothered me when you don't get weeds wall to wall, or grubs wall to wall," he said. "And it always bothered me that any weeds at all on a golf course is perceived as a failure. How hard is it to deal with weeds?
"I'd rather fix a little damage than spread chemicals everywhere for no reason."

Cheryl Crowther hits out of a bunker at Royal Portrush while Matt watches during the 2015 TurfNet members trip to Ireland.  A Rhode Island native and a graduate of the University of Rhode Island, Crowther credits Cornell professor Frank Rossi, Ph.D., a fellow URI alum and GCSAA President's Award winner, with helping cultivate some of his minimalist tendencies. He listened to every education conference talk given by Rossi that he could, whether in person or online.
"Rossi has that counter culture mentality," Crowther said. "He makes you think outside the box."
Crowther's environmental stewardship was not limited to the fairways at Mink Meadows; it extended off the course and into the swampy tidal marsh.
He worked closely on the marsh project with Lindsey Lawrence, a retired banking executive who split time between homes on the island and in the Boston area.
"One or two times a year, they had to dredge and refurbish the channel. If you don't dredge, it just fills in. I worked on getting the permits, and Matt was on site overseeing the work," Lawrence said. 
"It was a project that Matt just took on. He appreciates the environment, the local wildlife and what we have here. I spend most of my time on the mainland. Matt was an islander, and we were not. He could be here to watch over this when we couldn't. I can't imagine how that whole thing would have worked if we did not have him."
Budget and revenue concerns and the amount of play that occurs on a daily basis prevent adopting the same approach on a wholesale basis at Cape Cod.
"Here (at Cape Cod Country Club), my goal is consistency," Crowther said. "It's a busy golf course. I understand my role; it's not to make it perfect. It's to make it as good as I can."
The Emmet-Tull design was built in 1928, and has since undergone several transactions and name-changes. Despite Cape Cod's daily fee background, Crowther remembered it as a challenging layout, so the job caught his eye when it became open.
"I became a fan of classic architecture. I remember playing this course about 15 years ago, and I knew it had the bones and a layout that everyone raves about," he said. "It can stand with any of the other courses here. Everyone who plays it loves it."
His goal is not to turn Cape Cod into a remake of Mink Meadows. Rather, he just wants to make it better.
"My claim to fame is that I can do a better job than most with the money you are giving me," he said. "What I want to hang my hat on at the end of the day is to be that guy who puts out a damn good product without the most financial resources."