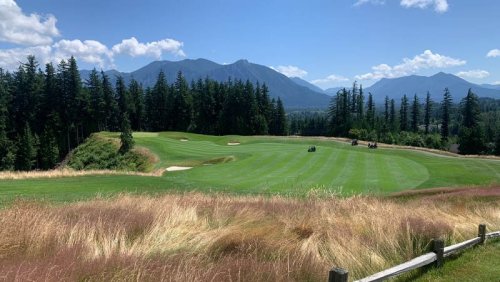 Removing accessories from the golf course has helped improve efficiency at The Club at Snoqualmie Ridge near Seattle. Photo by Ryan Gordon via Twitter At one time, 36-hole Kenton County Golf Course had a reputation as one of the finest public facilities in the Cincinnati area. Indigo Golf Partners, formerly Billy Casper Golf, wants to restore the two courses that were built a decade apart, to their former status among the best daily fee properties in a great public golf town.
In January, the one-two punch of general manager David Peru and superintendent Ron Freking, made the move from Devou Park, another municipal course in nearby Covington, to help make that goal a reality.
"Kenton County has certainly been challenging, but also rewarding," Freking said. 
"Indigo Golf Partners has a goal of making Kenton County Golf Courses the premier public golf facility in Northern Kentucky. This will be a long-term partnership with the county. Much has been done already, but there is still much to do. We know that over time, we can provide a golf facility that everyone will be proud of."
Trying to tackle a laundry list of projects like irrigation and water-management issues, cart paths in need of repair, labor challenges, tree management and greens longing for some TLC has been a challenge in the face of a pandemic that has brought golfers onto the property in droves.
"Early on, we were closed twice, but for only a couple of days each time,"Freking said. "We were not allowed to rent golf carts for quite some time and were open to walkers only. But even then, we were approaching 400 rounds of golf on nice days."
Freking's story, or at least something similar to it, is one that has been told across the country, including at The Club at Snoqualmie Ridge in Snoqualmie, Washington.
The club near Seattle is home to the Champions Tour's Boeing Classic, and getting everyone accustomed to new rules during the Covid era has been no easy task for superintendent Ryan Gordon.
"I'd say that the single biggest challenge has been in regards to unifying our membership and employee base on how we operate within the framework of the new rules imposed on us by the state in an attempt to contain the virus," Gordon wrote via email. "Plus, there were other things that we as employers had to change to make our workplaces as safe as we could for our employees to ensure that we could continue to operate in a worst-case scenario. Most people in this country have never faced a pandemic, so there is definitely a broad spectrum of opinions on how we ought to do things."
The impact on staff has included moving morning meetings from the break room to the parking lot, stowing away the coffee maker and eating lunch either off in a utility vehicle or in their cars.
"Removing amenities that make life more comfortable for the sake of safety was a hard thing for some of our staff members to swallow while others were very appreciative of the extra measures that we took" Gordon wrote.
Moving the meeting location made Gordon's crew a little more efficient.
"By having our meetings outside, our guys were already out the door and on the golf course," Gordon wrote. "Because they were already outside, there was less grabbing that last cup of coffee or changing shoes."
There have not been any outings at Snoqualmie Ridge, but there have been plenty of golfers.
Gordon has removed most if not all touchpoints on the golf course, including accessories like rakes and benches and reducing the depth of each cup.

The Pioneer Course at Kenton County Golf Courses in Independence, Kentucky. "All of this was very different for everyone," Gordon wrote. "And while it did create some challenges, we also found a lot of efficiencies that will be useful even in a post-pandemic world. 
"Without shotguns, we were able to gain extra time on the golf course prepping ahead of the first tee time rather than having to be off the entire course at a much earlier time. No bunkers rakes was also a victory for us. It made mowing around our 114 bunkers much faster, and our sand depths remained more consistent due to our members not having a rake to pull the sand away toward the exit points."
  After 31 years at Devou Park, changing jobs was a big move for Freking. And with a new job comes a new staff, and Covid arrived just in time to greet him and his new team.
"Covid hit just about the same time as I had planned extensive training for my team, and we were ramping up for a full and busy season," Freking said. "Because of Covid, we staggered our start times to create social distancing. We stopped using our time clock and went to paper time sheets to eliminate a common touch point.
"I did have a few at-risk individuals who chose to stay away, either on their own or following their doctors' advice, and of course, we encouraged everyone to protect themselves as they saw fit."
With a calm and easygoing demeanor, Freking is as patient as any superintendent can be. While at Devou Park, he regressed the fairways using squares of sod from a small nursery on the golf course. The nursery was so small, the fairway conversion project, completed at basically no cost, took eight years to finish. He's called upon that patience again this year.
"Covid did prevent me from conducting some of the large training sessions I had planned where we could gather everyone together and have group discussions regarding course conditions, maintenance practices, etc." Freking said. 
"Leaving Devou after so many years was not easy, but I am honored that Kenton County's care has been placed in my hands."