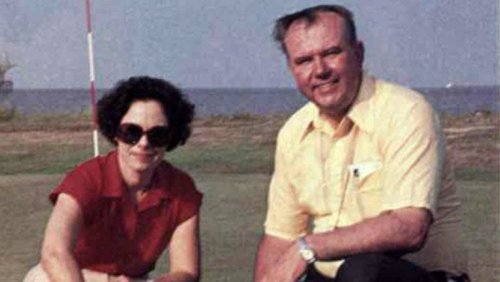 Harry Niemcyzk and Patricia Cobb in a 1985 issue of Weeds, Trees & Turf. Photo from Michigan State University Libraries The turf industry lost two legends during the holiday season. 
Harry Niemczyk, Ph.D., a longtime entomologist at Ohio State, died December 16 at age 91. Don Waddington, who spent nearly 30 years as a professor of turfgrass management at Penn State, died on New Year's Day. He was 89.
A native of Grand Rapids, Michigan, Niemcyzk earned a doctorate degree from Michigan State in 1962 and two years later took a position at the Ohio Agricultural Research and Development Center in Wooster, an arm of Ohio State. He spent the next 30 years there, and his self-published book Destructive Turf Insects (1981) became required reading for many turfgrass students across the country.
An Air Force veteran, Niemczyk reached the rank of staff sergeant during the Korean War and served as a technical instructor. Niemczyk was an avid outdoorsman and particularly enjoyed bird watching and fishing the rivers and streams of Michigan. According to a 2012 newspaper article, Niemcyzk was so passionate about sharing his love for fishing that he was known by other anglers as Pierre Z. Guide. 
He was preceded in death by his wife of 66 years, Dolores. Survivors include Mark Niemczyk of Apple Creek, Ohio, Sharon Niemczyk of Portland, Oregon, Kathy Kruse of Wooster, and Lisa (wife of Kip) Nussbaum of Orrville, Ohio.
Waddington was a native of Norristown, Pennsylvania. He earned a bachelor's degree at Penn State, but struck out to Michigan State for a master's degree and earned a doctorate at UMass in 1964. He made his way back to Pennsylvania a year later to begin a 26-year career at Penn State.
His research focused on soil amendments and modification, nutrient availability and uptake, soil test calibration, nitrogen source evaluation, and surface characteristics of athletic fields, including methods to assess impact absorption properties and traction. He and colleague Jack Harper collaborated on studies related to the safety and playability of athletic field surfaces. 
Waddington has published his research results in scientific journals as well as publications for turfgrass managers. He is co-author of the book Turfgrass Soil Fertility and Chemical Problems: Assessment and Management.
During Waddington's Penn State tenure he taught more than 1,100 students in two-year turf management, four-year undergraduate and graduate programs. Courses included soil physical and chemical properties, fertility, and weed control. For two years after retirement he continued to advise graduate students and teach courses in the two-year program.
He was preceded in death by his wife of 55 years, Caroline, and brothers Harold and Samuel. He is survived by his children Mary Waddington of State College, Pennsylvania, James Waddington of Bradenton, Florida, Lauretta (Marcus) Mann of Allentown, Pennsylvania, Kathy (Richard) Lirette of Pace, Florida, David (Monica) Waddington of Springfield, Virginia, and Douglas Waddington of State College.