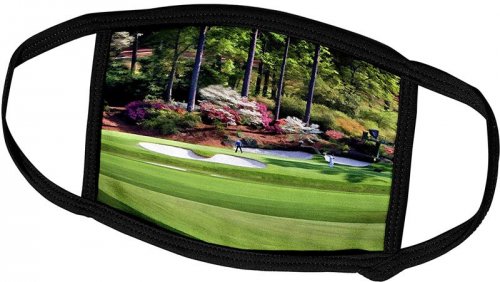 If you're itching for a mask sporting an image of the No. 12 green at Augusta National, they're available through Amazon. Few industries, with the possible exception of the new and lucrative mask-making market, have enjoyed the past half year the way golf has.
With not much else to do during the pandemic, golf has been the lucky beneficiary of an era in which it is better - we are told - to stay home and stay away from others than it is to go to work or school. As a result, people seeking opportunities for outdoor activities and recreation are heading to the golf course in high numbers, and according to some superintendents, many of them are there for the first time - and loving it. There are, however, some questions that during the pandemic golf cannot escape.
What about next year? What about after the pandemic? Will we even be out of the pandemic at any point in 2021? What if there is no vaccine, or if, like medical experts now suggest, one is only a temporary fix that fights the bug for months rather than provides a one-time cure?
"That is the question on everybody's lips," said Jim Koppenhaver, whose Chicago-based Pellucid Corp. crunches industry numbers better than anyone. "Everyone is waiting to find out does (the fallout from the pandemic) change the arc of the game forever, or will we be asking ourselves 'what was this?'"
Exactly when the economy emerges from a pandemic-induced recession is anyone's guess and will hinge largely on a safe and effective vaccine. The White House has hinted that one could be available before the end of the year, while other studies indicate we might be waiting at least until April 2021, all but guaranteeing more economic misery and uncertainty on a global scale. 
That won't be good for the golf business, which relies solely on an ever-shrinking pool of discretionary income. Reports estimate U.S. job losses due to Covid-19 between 30-40 million, with fewer than half returning to work at any point in the past seven months. Many of those jobs have disappeared forever, and it could take years for the employment market to catch up to pre-pandemic days.
The golf business appears to be poised to close out 2020 on a high note, at least from the perspective of rounds played. Beyond that; who knows?
Through August, rounds were up 21 percent nationwide for the month and 6 percent for the year, compared with the same periods in 2019.
Although rounds are up, will the change be enough to compensate for other losses throughout the operation? For many, the answer probably is no, according to Koppenhaver.
"We've determined that rounds have to be up by 11 percent to make up for all the lost cart revenue, outings, leagues and food and beverage," he said. "I'm calling end-of-year at about 5 percent up in revenue. Despite having a great rounds year, revenue at many places could be down by 5 percent when you factor in those other losses, and there are some courses out there that can't survive that."
Every year since 2006, course closures have outpaced openings. In that time, about 600 new courses have opened while another 2,000 have closed for a net loss of about 1,400.
When this trend of negative growth began 15 years ago, the industry would have to shet about 1,500 courses, or about 10 percent of its supply, to reach supply-demand equilibrium, Koppenhaver said. That was based on 2006 statistics. Since then, the game has lost 8 million players and shed 50 million rounds per year.

"The goal posts keep moving. That equation assumes flat demand, but demand has been shrinking along with supply," Koppenhaver said. "The challenge is that we have not be able to take (supply) out as fast as we should or could. Rounds are running away at the same time we are trying to shrink supply. All these years later, we're still at about that same 10 percent."
The stark reality is that although business has been good for many golf courses, the pandemic might accelerate the process of reaching supply-demand equilibrium.
"Typically, 40 to 50 golf courses close in the offseason. That could double this year," Koppenhaver said. "A lot of places are going to have to take a really hard look at their balance sheet. There's not going to be a March opening for some."
Golf will, of course, survive the pandemic, but it will look different than it does now, says Craig Kessler, director of government affairs for the Southern California Golf Association.
Right or wrong, the game still is perceived as a class struggle between society's haves and have-nots. To that end, private clubs with large budgets probably will emerge OK, while more modest daily fee facilities, the same properties that have been hurt the most during the past 15 years, probably will continue to feel the pinch.
Of the 103 net closures last year, only 12 were private, and 73 were public, 42 of which were categorized as "value public" facilities.
"Golf's leadership doesn't acknowledge what went wrong," Kessler said. "They drone on about customer service. It doesn't take a genius to know you need good customer service. What they don't take into account is that it is out of reach for many.
"It has been aggregating over time and killing growth. It doesn't have anything to do with it taking too long, or being too hard. The culture has changed, but golf (industry) doesn't look at those things."
Those same courses that have been closing at a high rate already are the very same facilities where the game is grown at a grassroots level. Newcomers start there and youth-development programs such as The First Tee call many of them home.
"Many will just close," Kessler said. "The First Tee will have nowhere to go."
Those long-term shifts in cultural and generational shifts in behavior that have stunted the game's growth, could send golf's sudden rise in pandemic era popularity swinging back the other way when things return to more or less to a pre-Covid normal - whatever that looks like.
For the past seven months, golf has filled a void created by the absence of attending other events. When the all-clear is given to return to baseball games, football games, youth sports, etc., golfers could flee the course in much the same way they have been for much of the past two decades.
"I'm not optimistic. I'm not pessimistic. I'm realistic," Koppenhaver said. "Nothing has changed with golf, and until someone shows me something to the contrary, I think it will resume on the path it was on as soon as those distractions return. 
"There is an appeal to the game, but it is out of sync with current society. We grew up appreciating something that was difficult to master. This next generation is about multi-tasking and making the most efficient use of their time. They want to be good at something immediately. If they can't be good right away, they are not willing to put the time into it. They'll do something else."
Kessler also has a tempered sense of realism thinking ahead to when this time is just a bad memory.
"I know we won't retain all of this business, but I hope we retain some of it and build a better base moving forward," Kessler said. "Covid has hopefully reminded us that there is a reason golf has been around for 500 years and will be around for 500 more. No matter what, there is something redeeming about spending four hours outdoors where the playing field changes every day."