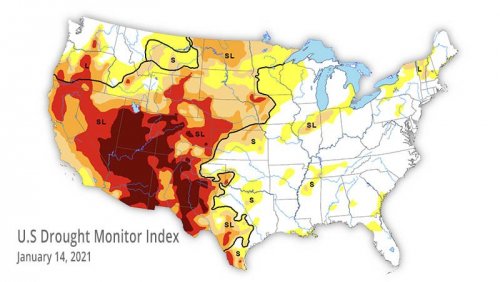 Just a few years removed from what some called the driest period in the state's history, California might be on the cusp of another drought.
According to the U.S. Drought Monitor, the entire state is under some level of drought, ranging from Abnormally Dry to Extreme Drought conditions. And California is not alone. Nine other western states are completely under drought-like conditions and eight more are very close.
Winter snow in the Sierra Nevada range supplies about 30 percent of the state's water supply through a system of aqueducts and waterways known as the State Water Project that captures runoff. The California Department of Water Resources says based on reports from 204 weather stations throughout the Sierras that snowpack in the mountain range that runs along California's spine for 400 miles is at an average of just 42 percent of normal through January 19. 
The state is so dry that two power providers in Southern California interrupted power to thousands of customers, out of fear that winds could take down electrical lines leading to more wildfires.
"The snow survey results reflect California's dry start to the water year and provide an important reminder that our state's variable weather conditions are made more extreme by climate change," said Karla Nemeth, director of the department of water resources, in a news release. "We still have several months left to bring us up to average, but we should prepare now for extended dry conditions. The Department, along with other state agencies and local water districts, is prepared to support communities should conditions remain dry."
Rainfall throughout Los Angeles County was down by about 25 percent through 2020 according to the National Weather Service. No rainfall at all was recorded in the county in five months throughout the year, including four months straight from June through September. Some of the largest of the state's 47 reservoirs are well under storage capacity, including Shasta (42 percent), Oroville (34 percent) and San Luis (49 percent).
"While the dry conditions during late summer and fall have led to a below average snowpack," Nemeth said, "it is still encouraging to have the amount of snow we already have with two of the three typically wettest months still to come."
The last drought plagued most of the state at some point from 2011 to 2017 and resulted in mandated water-use restrictions statewide.