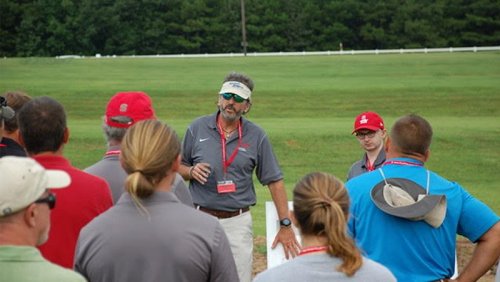 Fred Yelverton, Ph.D., has been named the recipient of the Carolinas GCSA Distinguished Service Award. A professor of crop and soil sciences and an extension specialist at North Carolina State University for the past 39 years, Yelverton has educated future superintendents in the classroom and working superintendents at regional and national conferences since 1984. 
The award is the highest honor bestowed by the 1,800-member association.
"Fred is arguably the best turfgrass weed scientist ever," NC State colleague, Dr. Jim Kerns wrote in a letter supporting Yelverton's nomination. "His contributions in research laid the groundwork for current and future weed scientists and will serve as the backbone for literature searches in research for a very long time."
The award follows a long list of honors and recognition that Yelverton has earned over the years.
Earlier this year, Yelverton received the Outstanding Contribution Award from the GCSAA. In 2021, he was named a Fellow of the Crop Science Society of America. His expertise is sought not only throughout the U.S., but internationally, as well. To that end, he is helping with preparations for the Ryder Cup in Rome in September.
"Fred's long list of accomplishments illustrates how incredibly busy his schedule has been over the years," said a nomination letter from the Triangle Turfgass Association. "However, when he is called on by a golf course superintendent or any other turf professional in the Carolinas, he makes you feel as though your turfgrass issue is his highest priority. That is the definition of Distinguished Service."
Three of six letters supporting his nomination for the award came from previous recipients. One of them, Bruce Martin, Ph.D., now retired from Clemson University, wrote that Yelverton's accomplishments would be "considered 'upper echelon' when compared with other scientists' lifetime career achievements.…it is so obvious that he is more than worthy of the honor. Actually, I think this award is overdue…"

Fred Yelverton, Ph.D., has been at North Carolina State University for nearly 40 years. NCSU photo Yelverton and his three older brothers grew up on a tobacco farm near Black Creek, North Carolina. 
"Yeah, I knew what work was at a young age," Yelverton said. "We literally worked from 5 a.m. to probably 9 p.m. My father was a World War Two veteran, kind of a no-nonsense guy. He'd say, 'Alright boys, let's get this done.' And you didn't question it. You'd just go do it."
He was similarly matter of fact in his approach to being diagnosed with a highly aggressive form of prostate cancer in 2009. Doctors gave him a 20 percent chance of survival.
"It was tough. It was tough, you know, because I had a 10-year-old at the time," he said. "But they removed it, and I had chemotherapy and radiation. They threw the book at me. But there was only one way to go, so you do what you've got to do, man. Just like a project on the golf course. You do what you've got to do.
"You know that old saying, what doesn't kill you makes you stronger. I think that's true because all of a sudden, I had a totally different perspective on life. We're not here forever so you better enjoy it while you are. That thinking permeates everything I do now."
Such health challenges are why Yelverton made the decision to enter phased retirement. His current half-time duties will wrap up entirely next summer.
"I love what I do. I don't feel like this is work," he said. "I've loved every minute of it. But you know that John Lennon quote from just before he was shot? 'Life is what happens while you're busy making other plans.' It's time to start doing some other things I want to do."
Yelverton will receive the award in November during this year's Carolinas GCSA Conference and Trade Show in Myrtle Beach.