Welcome to the TurfNet Members Trip to Ireland blog for 2018. We're starting early to allow the blog to explain the details of the trip. We also want allow for additional participants/sign ups in the wake of one of the most difficult seasons in which to maintain turfgrass. Have a look and consider joining us on a "trip of a lifetime."
Dates: Thursday, October 11th (Leave the US) and return Saturday, October 20th, 2018. You are welcome to extend the trip on the front or back end on your own.
History: This is the tenth TurfNet members trip overall and our fifth visit to Ireland.
Trip Philosophy:  Relax, enjoy yourself, have fun, get along. You've earned it. Especially this year…
Links Courses to be played (year established): 
You will find virtually all these courses in the rankings of top courses to play in Ireland. We will also meet our superintendent/greenkeeper hosts at each course and when possible meet their staff and tour their facilities.

Where we stay: We plan our hotels so they are evenly distributed around the areas we are playing. This means we never have a really long bus ride to get to or from the golf course. Specifically, we'll stay in the following hotels/towns:

Ground Transportation: We will once again engage Matthews Coach Hire to provide our daily transportation around Ireland. The coach bus is leather-trimmed and has a bathroom on board. They did an outstanding job ensuring our comfort, safety, and enjoyment when we were last there in 2015. 

Are non-golfers or partial golfers welcome? Yes! If you're first reaction when you look at this trip is, "there's no way I'm going to Ireland and leaving my wife at home" we're happy to explain that there is a separate program for any non-golfers on the trip. We have the coach bus all day so while the golfers are on the links, the non-golfers use the coach to visit local historic and heritage sites. 
These side trips are flexible and the driver will take cues from the group as to the number of places to visit
These side trips are flexible and the driver will take cues from the group as to the number of places to visit and the pace of the trip overall. If there are specific interests for any non-golfers (shopping, art, history, gardens, etc…) we are happy to work those stops in as well. If someone would like to play some golf but not every day, they are welcome to sign on to the Tee/Tour package – roughly half the golf and half the tours. Any golfer is welcome to join the daily tour due to fatigue, rain, injury or other considerations.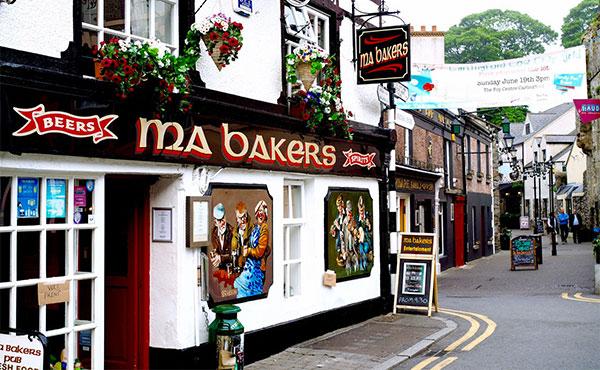 Flights: Since participants are attending from different parts of North America, we don't have a set pair of flights for the group trip. The package rate for the trip doesn't include airfare so you are free to book your own best deal with the airline you prefer to use. Just make sure you arrive into Dublin Friday morning October 12th no later than 10 AM and don't plan to leave Dublin before Saturday morning October 20th. 
A number of discount carriers have entered the US to Ireland market, which has generally brought prices down in recent years. Pay attention to additional charges for checked luggage and sporting equipment/golf bags.
Package price:
Golfer Double Occupancy: $2600;
Non-Golfer Double Occupancy: $1700.
Other prices are on the attached flier: ireland_2018_v2.pdf
Other expenses: You are responsible for lunches, most dinners, optional caddy fees ($60-$80/round), evening beverages, and any souvenirs you want to buy. $100-$150 per day is a good range depending on your caddy use and the amount of items you plan to bring home, but everyone is different in that regard.
Final opening thoughts: We've designed this trip to make it especially memorable on many levels. The golf is first rate, the pace is reasonable but not exhausting, and the hotels are very comfortable. By playing these courses you'll likely gain insight as to how you may wish to tweak the way you manage your course back home. 
The golf is first rate, the pace is reasonable but not exhausting, and the hotels are very comfortable.
The trip is turnkey. Like what you see? Sign up, book your flight, show up and enjoy! No need to confirm hotels, tee times, car rentals (other side of the road!) etc… 
I can't tell you the number of people who see our trip blog and tell me, "I wish I had gone on that Ireland trip!" 
We hope you'll consider joining us and bringing a friend or relative!
Special Thanks to Syngenta, IVI SandTrapper and Foley for their sponsorship and support of the trip. 
Have questions? Contact me at JKiger@turfnet.com or 1-770-395-9850.