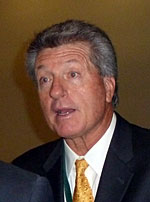 Being thought of as a number is not an enviable position, but its a reality in todays economy. That is especially true for golf course superintendents, says Tim Moraghan. 

Moraghan, the former superintendent and USGA Green Section agronomist-turned turf industry consultant, told an audience at this years Ohio Turfgrass Foundation Conference and Show, said greenkeepers today should be focused on how stay relevant in an industry where the mantra appears to be out with the old, in with the new. 

Remember, people dont care about you personally, Moraghan said. Because of the economy, to your members you are a number. You dont want to be a number that is erased.
 
That is especially critical in the current market that has seen a net loss of more than 300 golf courses and 4 million golfers in the past six-plus years. In his talk, entitled Where Do We Go From Here? Moraghan said there are many resources readily available to help prevent superintendents from becoming a statistic. 

Every time a golf course closes, that puts somebody out of work, he said. You have to be aware of economics. 

These are not fun numbers. We, as golf course superintendents always walk around with our heads down (looking at the grass). You need to look up and pay attention to whats going on. 

Moraghans sobering message was one of many educational seminars at this years OTF show held Dec. 4-6 in Columbus. Other highlights from the annual event included three days of educational seminars by university researchers and industry experts and a two-day trade show that culminated with a keynote address by former Ohio State and NFL player Chris Spielman. His discussion, Living With a Passion, reflected Spielmans own personal journey of self discovery spurred by injuries on the football field and wife Stefanies 12-year battle with breast cancer. 

Throughout the duration of his wifes fight against cancer and since her death in 2009, Spielman has been an advocate for cancer research, early detection and being passionate about lifes endeavors. 

Together, the Spielmans founded the Stefanie Spielman Fund for Breast Cancer Research, which to date has raised more than $10 million. 

We all have challenges, Spielman said. It doesnt have to be about cancer. It can be about how you do your job. 
 
That philosophy reinforced Moraghans message as well. Moraghan cited a GCSAA study revealing that conditions are the most critical component in whether a player enjoys a round of golf. Still, with market competition fierce, superintendents must continue to separate themselves from the field to stay employed, he said. 

The superintendent is the most valuable player in the golf arena. You are responsible for conditioning, Moraghan said. 

Attitude is everything. You still have to show people that you want to be there. Make yourself the center of the operation. Get involved in everything and make it where everybody comes to you. 

Get your self in a position where you cant be caught (off guard. Take nothing for granted. 

Some of the tips Moraghan offered include: 
becoming involved in as many other aspects of the overall golf operation as possible;  having your resume ready;  being committed to ongoing education;  embracing technology;  taking an honest inventory of strengths and weaknesses.  Becoming indispensable means being an expert and sharing information with golfers about agronomic and cultural practices, what they accomplish and why they are necessary. 

It also means at times looking at all aspects of the golf course operation from a customers point of view. That can be critical as clubs struggle to retain existing members and attract new ones. What might seem like a small thing to a superintendent could be a big thing to someone else. 

Try to do something every day to see the golf course in a different way, he said. Members see things differently. We look down; they see 360 degrees. Come in thinking like a member occasionally. Look at the condition of everything. See what needs to be fixed and fix it before they say fix it.
 
According to Moraghan, a majority of superintendents do not take advantage of the many technological advancements available that can make a greenkeepers job easier, particularly mobile apps, social media and blogs. 

As a consultant, Moraghan hears many objections from superintendents from sharing information online with members, many of which center around golfers picking up just information to be dangerous at least dangerous to the long-term career goals of superintendents. 

And while that much might be true, ignoring technology is akin to burying ones head in the sand, he said. 

Technology gives members tools to embrace and know more about what youre doing. Use it to improve your efficiency, he said. As a whole, our industry is 10 years behind the curve. Thats not good. We need to be 10 years ahead of the curve. 

Being successful also means being realistic. And the reality of golf is that more courses are closing annually 340 net losses since 2006 according to the National Golf Foundation and industry experts expect that trend to continue for several more years until the industry strikes a balance between supply and demand. That means have your resume ready, and the trend today is short and to the point, said Moraghan, who also is an employment consultant for superintendents and golf clubs. 

Are you ready for these downward trends? Do you have your resume up to date? he asked the audience. 

Being a great superintendent today is not enough, he said. We are in a business where we get hired to get fired. Were like coaches. Do we get the buyouts that coaches do? Not likely. A lot of times, were lucky if we get six weeks and a kick in the ass as we get shown the door.