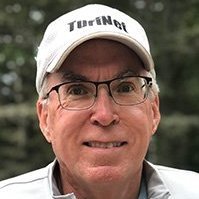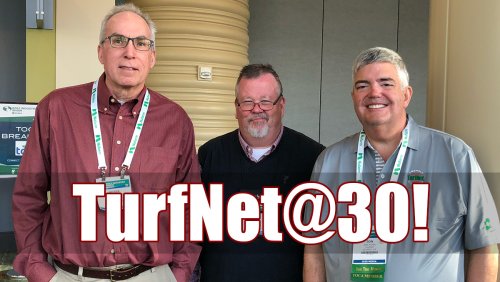 The 30th year of operations for TurfNet kicked off February 1 and will be celebrated with TurfNet@30, a series of retrospective videos, snippets and interviews focusing on the innovations, friendships and industry leadership fostered by TurfNet over the past 30 years.
The idea for a fee-based information-sharing service for the golf industry jolted Peter McCormick awake in the middle of the night in late 1993.
"I had a dream, seriously," he quipped. "With input from some friends, my brother Bob, and a couple of local superintendents, we refined the concept over the ensuing two months around my kitchen table in central New Jersey," McCormick reflected. He launched TurfNet at the 1994 GIS in Dallas by handing out home-printed business cards and brochures to superintendents he knew from the NJ and metro NYC areas.
"It was the scariest day of my life," McCormick recalled. From there it was off to the races.
"My first goal was to NOT be one of the 90% of new businesses that fail during the first five years," McCormick said. "We made it, and then some."

TurfNet Monthly, the print newsletter that put TurfNet on the map with a no-nonsense style that didn't shy away from the tough issues. Noted for many industry "firsts" and innovations over those years — original dog calendar, first graphical discussion forum, first turf media website, Superintendent of the Year and Technician of the Year awards, free webinars and job listings (for members), first dedicated video channel (spearheaded by Randy Wilson, the first to poke fun at the industry), beyond-distributor-territory used equipment listings, member trips and even the Beer & Pretzels Gala — TurfNet@30 is appropriately presented by Kress, an innovative European manufacturer of autonomous mowers and 60v commercial landscape tools that is just breaking into the North American market.

Golf Car Control, the epic Randy Wilson film that launched TurfNetTV and a new era where nobody -- including "The Alphabets" -- was exempt from Randy's satire.

The third Beer & Pretzels Gala, held at Bubba Gump's in New Orleans in 1999, is still being talked about 20+ years later. Popcorn shrimp and a Hurricane, anyone? As part of the TurfNet@30 series, TurfNet will be sharing some of the key business strategies employed over the years to accomplish so much with only three people. "The first of those is having no business plan," said McCormick. "While that may fly in the face of business school teachings, we found that keeping our ears to the ground and our thumbs on the pulse of the industry guided us well over the years."

Just the three of us! We will be sharing how we do it during the TurfNet@30 series.