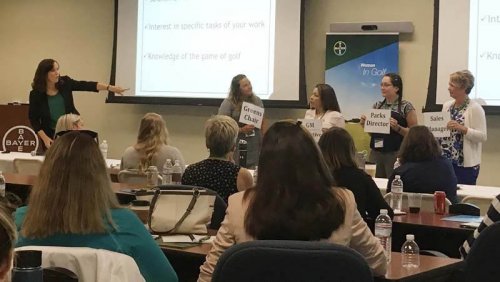 Carol Rau, a human resources expert with Career Advantage Golf (left) shown here at last year's Women in Golf Event by Bayer, will be among the speakers at this year's virtual Green Start Academy. The application deadline for this year's virtual Green Start Academy has been extended to Sept. 8.
The annual educational event for assistant golf course superintendents that is hosted jointly by John Deere and Bayer this year will comprise a series of virtual sessions that will kick off Oct. 14 with an opening general session. 
The series will take place weekly over four weeks with 90-minute sessions every Wednesday at 3-4:30 p.m. The agenda is as follows:
Oct 14: Jeff Havens (keynote speaker) – Leading in a Multigenerational Organization,
Oct 21: Carol Rau – How to Stand Out as an Assistant When Applying for Jobs,
Oct 28: Carlos Arraya – Leading Golf's Multicultural Organizations,
Nov 4: Carol Rau – Position Yourself for Success.
Havens, a successful author, business growth expert and communication expert will provide participants with insights about how to become a better leader and guidance for successfully navigating the challenges they might face throughout their careers.
Participants will be assigned to smaller mentorship groups with various golf industry leaders to further encourage meaningful conversation and deeper connections with other participants and facilitators. Dates for those sessions have not yet been confirmed. Mentors include:
Carlos Arraya – Bellerive Country Club, St Louis,
Dan Meersman – Philadelphia Cricket Club, Philadelphia,
P.J. Salter – Riveria Country Club, Miami
Bob Farren – Pinehurst Resort, Pinehurst, North Carolina
Grant Murphy – Barrie Country Club, Barrie, Ontario.
Lukus Harvey – Atlanta Athletic Club, Atlanta.
Green Start Academy is open to assistant superintendents from the U.S. and Canada who want to advance their careers and build connections within the golf industry. Click here to apply.