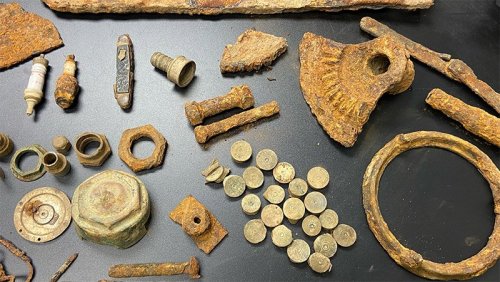 Superintendent Jason Hayes is using a metal detector to help tell the story of Cavalier Golf and Yacht Club in Virginia Beach. Among his finds so far have been old spark plugs, pieces of vintage maintenance equipment and several spent shotgun shells. Photos courtesy of Jason Hayes Jason Hayes is no archaeologist, but his findings nonetheless are helping tell the story of Cavalier Golf and Yacht Club in Virginia Beach.
In his 20th season at Cavalier, Hayes was named head superintendent last year when longtime GCS Mark Hill retired in 2021 after more than 40 years on the job.
Throughout his time at Cavalier, a 1928 Charles Banks design, Hayes has held a keen interest in the club's history. 
During the offseason, he took a metal detector onto a small area of the golf course and found a trove of disparate pieces of equipment, some of which predates construction of the golf course.
Among his findings were old sickle bar blades, spent shotgun shells and spark plugs from a 1920s era Ford tractor. Given the supply chain issues that continue to delay parts and equipment deliveries at golf courses throughout the country, Hayes joked that future work with the metal detector might lead to more useful discoveries.
"That's just the tip of the iceberg," Hayes said. "I haven't found any old coins yet, but maybe I'll find a buried tractor."
Cavalier's self-appointed historian, Hayes has been heading up efforts to unearth more facts about the club's past. Aerial photography from the 1930s reveals a small building near the 10th hole. Subsequent photography shows that structure, which Hayes believes was the original maintenance facility, was gone by the late 1950s. Hayes figured that was as good a place as any to start searching for insight into the club's past.
"I found horse-drawn plow blades, gears, bar blades, all from the '20s," he said. "I'm pretty sure it is from the construction of the golf course."

Among the non-metallic finds at Cavalier Golf and Yacht Club have been scores of vintage golf balls. Joe Andrew, Cavalier's general manager, has placed a renewed emphasis on Cavalier's history, and Hayes, who already appreciates history, was only too happy to step forward.
A Yale University graduate, Banks was an English teacher before he met Seth Raynor. He ducked school after teaching for 15 years and took up golf course architecture with Raynor and Charles Blair Macdonald. When Raynor died in 1926, Banks completed some of Raynor's unfinished work. Cavalier was one of his first original designs.
Banks was commissioned by Richard Teller Crane II, the first U.S. diplomat to Czechoslovakia and heir to the Crane plumbing fixtures fortune, to build a private golf course on farmland in Virginia Beach in 1926. The golf course was acquired by the adjacent Cavalier Hotel when Crane died in 1938 during a hunting trip. Since then, the club has been the site of many professional high level amateur events. Doug Ford won the last of three PGA Tour events played there in 1953, '54 and '55. According to the club, Walter Hagen was an honorary chairman and the club's touring pro in the '50s. As the country braced for an attack on the East Coast from Germany during World War II, the club's 15th fairway was the site of an anti-aircraft battery during the early 1940s.
The design of the club's Bermuda-style clubhouse has been a mystery, at least it was until a study of the club's past revealed that the building is a replica of home on the island of Bermuda once owned by Crane's cousin. The building's interior was designed by Dorothy Draper, who also designed the the Greenbrier Resort clubhouse in West Virginia, Hayes said.
"Studying the club's history has been like peeling an onion," Hayes said. "Every time I peel some back, it reveals a lot more information."
What is underground outside on the golf course is as telling as the club's infrastructure.
Besides discarded pieces of maintenance equipment, among Hayes' findings during his initial work with a metal detector were several spent shotgun shells. 
Cavalier's resort and club has a history of trap shooting, however, the clubhouse is a long way from the old maintenance facility where Hayes uncovered the shells. Scouring old editions of the Virginian-Pilot newspaper might hold some clues.
"I found some articles from the '30s that said crows were a major problem here. They were such a problem they were taking balls off the fairways," Hayes said, as a crow called out in the background from a nearby tree. "I don't know, maybe they were shooting crows. I know they were still a problem when I started here 20 years ago."
Hayes has taken the role of club historian to an extreme. When combing over his findings, he listens to music that would have been popular when the club was founded a century ago. He already is awaiting the next offseason so he can expand his search over a wider area. 
"I love my job. Other than the Army, this is all I've ever done," he said. "You think about how busy your job is, then you find something on the golf course and you think about the demands on us today and what they had to go through in the '30s just to keep crabgrass out. It opens your mind to what it was like then."