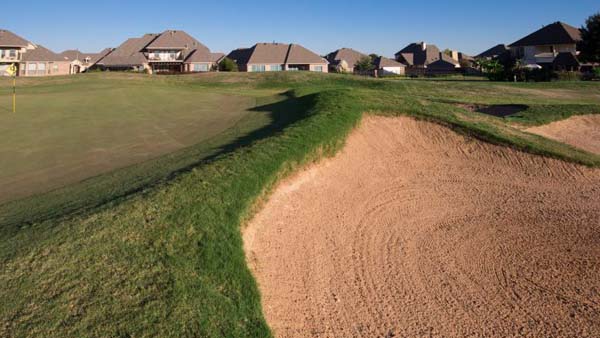 When Jorge Croda arrived at Southern Oaks Golf Club in North Texas less than two years ago, the course was, as one member put it, on the verge of destruction. Now, after Croda has been on the job for 20 months, those same members now say they've never seen the course in better shape.
  One might argue that destruction of the course located in the Dallas-Fort Worth area already had occurred. A video posted early in 2013 referred to the property in the opening frame as "Southern Weeds, formerly known as Southern Woods."   The video itself backs up those statements with images of knee-high weeds, wide swaths of in-play areas devoid of turf and upscale homes serving as a backdrop to this eyesore.   When Croda came aboard shortly thereafter, the owner (who had run out of money) sold the property, and the new owner injected money and new life into the property.   Less than two years later, thanks to Croda and his reinvigorated crew, Southern Oaks' members hardly can believe the difference.   "I have been intimately associated with the course evolution, ownership/management changes and the historic maintenance of (Southern Oaks)," wrote Joseph Durham, a member at Southern Oaks, in nominating Croda for the 2014 TurfNet Superintendent of the Year Award, presented by Syngenta. "I have seen the good, the bad and the incomprehensible, and finally the resurrection of one of the finest courses in the MetroPlex."   When Croda arrived at Southern Oaks, the problems there were far greater than just agronomic challenges. Dead turf and no turf were symptoms of a systemic problem of a property that included a lack of resources, lack of reliable equipment and a need for a little housecleaning.  
"The equipment needed to be fixed, the irrigation system needed to be fixed when I arrived," Croda said. "I needed a new mechanic to fix the equipment. That was the most important thing, to get the equipment in this place running."   For his ability to bring Southern Oaks back from the dead, Croda has been named a Superintendent of the Year Award finalist.   "Two years ago, Southern Oaks was on the verge of complete destruction," Durham wrote.   "This became a death spiral that led to less and less resources available as fewer rounds were played because the facilities were continually deteriorating. Then came Jorge Croda. We all were amazed that he was able to keep the course playable and even improving with so few resources and very little help. He did this through sheer determination, pride and hard work. Through some ingenious use of these limited resources, we even saw some noticeable improvements.   "Then, a miracle of new ownership/management occurred resulting in the financial commitment to improving the condition of the course. Today, under Jorge's management, innovative ideas, extraordinary work ethic and artistic vision, SOGC is better than it's ever been."   Croda, 51, has been a head superintendent for 14 years, and has built a career out of taking distressed golf courses and rebuilding them into something golfers can be proud of.   "I have played the course since it opened up and have never seen it in better shape than it is now," wrote Les Beadle, director of golf at Cowboys Golf Club, in Grapevine, Texas. "The difference that has transformed the course from just a golf course that was struggling to a top notch golf course that you want to play is Jorge's expertise and skill. The most amazing of all is that he has done it in less than a year."   Key to the turnaround has been the crew, many of whom are new hires Croda trained. Since they played a key role in the rebuilding process, they also have more of a stake in the final product. Part of that new crew is mechanic Alejandro Berce, an associate of Croda's through the Pan American Golf Association.   "In a short period of time, he transformed this facility's once poor reputation to it being considered one of the premier courses in the area," wrote assistant GM Kim Bunch.    "Rather than focus on the problems, Jorge found and implemented solutions that placed this course among the top 20 in North Texas. Jorge's course management skills go well beyond the physical facility. He has implemented required education for employees, which teaches a strict code of conduct, and core values that include teamwork, interpersonal communications and wise decision-making.    "To Jorge, assuming a leadership role in the club reflects his passion for golf, and allows him to give back to the game that he loves."   Croda is one of 10 finalists for the award, which is sponsored by Syngenta. Finalists are chosen by a panel of judges from a field of nominees based on the following criteria: labor management, maximizing budget limitations, educating and advancing the careers of colleagues and assistants, negotiating with government agencies, preparing for tournaments under unusual circumstances, service to golf clientele, upgrading or renovating the course and dealing with extreme or emergency conditions.   The winner will be named Feb. 26 at the Golf Industry Show in San Antonio. Previous winners include: Chad Mark (2013); Dan Meersman (2012); Paul Carter, CGCS (2011); Thomas Bastis, CGCS (2010); Anthony Williams, CGCS (2009); Sam MacKenzie (2008); John Zimmers (2007); Scott Ramsay, CGCS (2006); Mark Burchfield (2005); Stuart Leventhal, CGCS (2004); Paul Voykin (2003); Jeff Burgess (2002); Kip Tyler (2001); and Kent McCutcheon (2000).