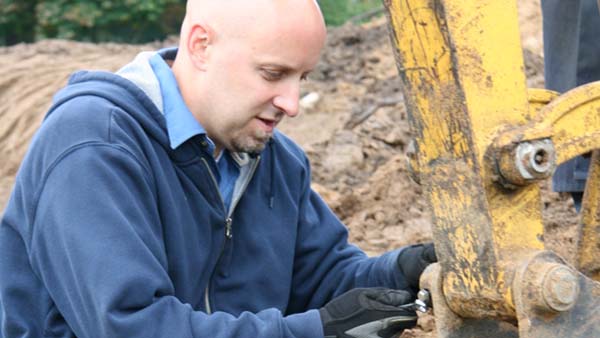 Technician of the Year Award Finalist
 
Chris Adler, Oakland Hills Country Club, Bloomfield Hills, Michigan
 
Home to more than a dozen major championships throughout its history, Oakland Hills Country Club is all about quality of cut. So is the club's equipment manager, Chris Adler.   "His commitment and passion are like none I've seen in 30 years," said Steve Cook, CGCS, director of agronomy at Oakland Hills, a 36-hole property near Detroit in Bloomfield Hills.    "His main focus is quality of cut. He makes sure all of our mowers are set perfectly before they go out. You just don't see an uneven cut here."   That's important at a place like Oakland Hills where members are driven to make sure the property is a regular fixture in major championship golf.   Designed by Donald Ross in 1918, the club's South Course has been the site of 13 major championships, including six U.S. Opens, three PGA Championships, two U.S. Senior Opens, a U.S. Amateur Championship and the Ryder Cup Matches. The Ross-designed North Course, which first greeted players in 1924, went under the knife in 2013 to the tune of $2.3 million.    Overseeing property with so much history requires a superintendent to be on top of his game. Likewise,managing the $2.3 million in equipment used to maintain the property requires a skilled equipment manager as well.   Enter Adler who was an assistant technician during the 2009 PGA Championship at Oakland Hills and left later that year to become the equipment manager at Indianwood Country Club in Lake Orion, Michigan. When the top mechanic's position at Oakland Hills became available in 2011, Cook actively recruited Adler to fill it.   Adler has been named one of three finalists for the TurfNet Technician of the Year Award, presented by Toro.   The winner of the TurfNet Technician of the Year Award will be named this summer, and will receive the Golden Wrench Award and a spot in the Toro Service Training Academy at the company's headquarters in Bloomington, Minn.   Previous winners include Brian Sjögren, Corral de Tierra (California) Country Club (2013); Kevin Bauer, Prairie Bluff (Illinois) Public Golf Club (2012); Jim Kilgallon, Connecticut Golf Club (2011); Herb Berg, Oakmont (Pennsylvania) Country Club (2010); Doug Johnson, TPC at Las Colinas, Irving, Texas (2009); Jim Stuart, Stone Mountain (Georgia) Golf Club (2007); Fred Peck, Fox Hollow and The Homestead, Lakewood, Colorado. (2006); Jesus Olivas, Heritage Highlands at Dove Mountain, Marana, Arizona (2005); Henry Heinz, Kalamazoo (Michigan) Country Club (2004); Eric Kulaas, Marriott Vinoy Renaissance Resort, St. Petersburg, Florida (2003). No award was given in 2008.   Adler has worked in the past as a spray tech and maintenance crew worker. He even attended turf school and worked for three years as superintendent at Mulligan's Golf Center, a driving range and practice center in nearby South Lyon, before deciding he no longer desired the aggravation that comes with being a superintendent, Cook said.   Still, that experience has increased his value as an equipment manager, said Cook.    "He has a good eye and understands the playing surfaces and what they should look like. He gets the grass growing part of it, and when a sprayer or a piece of equipment doesn't work, he gets that too," Cook said. "That's important here, because here our next major is always tomorrow morning. Whether it's for daily play or major tournaments, we might raise or lower the height of cut, but we don?t change much else."   Adler also possesses intangible qualities that Cook can't quantify like he can quality of cut, or the ability to manage a budget.    "Chris is transformative," Cook said.   "The entire staff now communicates openly with our team of mechanics. Morale is higher. Cookouts are better. Production has increased. Our costs are lower. We have more respect for the equipment and he has elevated the visibility of our fleet, our staff and our department."