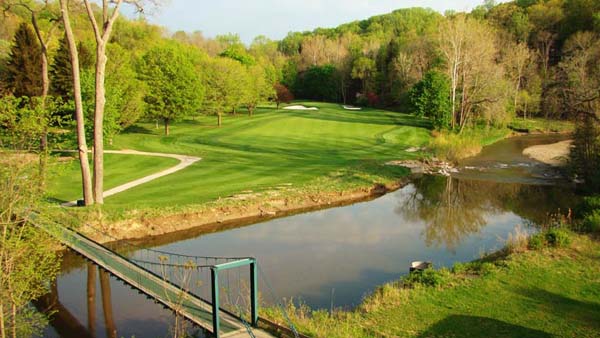 Editor's note: This is the first in a series of occasional articles in which TurfNet catches up with Superintendent of the Year, Chad Mark of The Kirtland Country Club in Willoughby, Ohio.
 
There is a saying that "stuff" runs down hill. But at the Kirtland Country Club, delivering irrigation water over some 90 feet of elevation changes has meant flying in the face of physics. The recent installation of a new pump house now has Kirtland back in the good graces of Sir Isaac Newton.
 
Located in the Chagrin River valley, Kirtland's layout is enhanced by glaciers that cut through the land long before Charles Hugh Alison designed the course in 1921. To that end, about 90 feet in elevation change separate the upper 10 holes and the lower eight. Getting water to where it is needed has meant pumping water uphill. Even with the help of a booster pump, the long trek up hill has resulted in a loss of about 40 pounds of pressure.
 
The challenges associated with maintaining pressure also has meant that superintendent Chad Mark has not always been able to run some heads when he's wanted to and at times resulting in a high-pressure shutdown.
 
"It is a unique and flawed system," said Mark, who earlier this year was named winner of TurfNet's Superintendent of the Year Award, presented by Syngenta.
 
Last year, Mark began installation of a new pump house that now sends water up the hill to an irrigation pond near Kirtland's third hole. Gravity does the rest as Mark now can get water where he needs it, when he needs it.
 
He also is test driving new irrigation software in advance of installing a new system in 2015.
 
The new pump house and irrigation system all are part of Kirtland's 10-year-old, board-approved master plan designed to help Mark maintain the course as closely as possible to the way Alison intended when he built it.
 
That master plan also included a restoration led by Ron Force Design, expanding the greens back to their original contours and a tree-management project, all thanks to archival and aerial photography dating from 1929 to 1954. That plan also calls for some updating of the course, namely moving fairway bunkers to reflect enhancements made possible by changes in equipment technology.
 
"The master plan is a blueprint for our future," Mark said. 
 
"Our intent has been to go back (to the 1920s) as our guiding point. As a club, you either have a restoration philosophy, or a renovation philosophy. Ours is restoration. We are very much a club of tradition. Generations of families have been members here, and there is a high priority on preserving the past while looking toward the future. We have a classic design that no one wants to see modernized, other than strategic movement of bunkers to keep them in play.