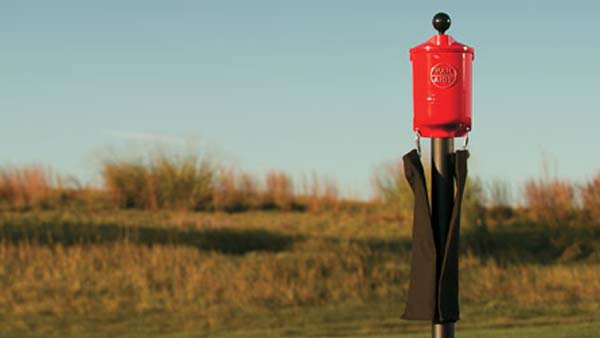 Spring into savings with BASF
  BASF has launched a summer holiday spray promotion that will help superintendents save up to 8 percent in earned credit on qualifying fungicide purchases.   The promotion, which includes Lexicon Intrinsic, Honor Intrinsic, Insignia SC Intrinsic and Xzemplar fungicides, will run through Aug. 31. BASF also is offering a Bose SoundLink Color Bluetooth speaker with the purchase of one case of Lexicon Intrinsic fungicide.   To qualify, all purchases must be made by August 31 and registered by Sept. 18 at betterturf.basf.us/holidayspray.     Par Aide says spruce up those tees
  Par Aide has a few new products available to help superintendents easily spruce up the appearance of any golf course.   Such products include club washers, spike brushes and ball washers that are designed to keep golf clubs, balls and shoes free of debris.   Other standby items include customizable tree branch tee markers and benches for taking a load off for those times when everyone is not necessarily playing ready golf.   The Andersons buys Kay-Flo
  The Andersons recently acquired Kay Flo Industries, a South Dakota-based provider of field and crop nutrient products.

The acquisition is part of The Andersons? plan to grow its wholesale and specialty fertilizer business within the Maumee, Ohio company?s Plant Nutrient Group.

Based in North Sioux City, Kay-Flo is a consortium of family owned companies that manufacture high-performance crop and animal nutrients that has been in business since 1928 when it started as Kay Dee Feed Co. The company also has operational facilities in Iowa and Nebraska.

Kay Flo, through its Nutra-Flo Division, is the leading U.S. manufacturer of premium liquid starter fertilizers and is also a leading manufacturer and formulator of micronutrient enriched plant nutrients. Nutra-Flo serves hundreds of growers, ranchers, and agribusinesses throughout the Western Corn Belt with these products along with its conventional fertilizers.

The purchase includes a state-of-the-art research-and-development laboratory and three plant nutrient manufacturing and distribution assets with more than 100,000 tons of tank storage that produce more than 200,000 tons of liquid fertilizers. The animal nutrient portions of Kay Flo are not a part of the acquisition.   Irrigation Association offers training courses
  The Irrigation Association is offering a schedule of on-site classes to help irrigation professionals improve industry proficiency, advocate sound water management, and grow demand for water-efficient products and services.   Classes include irrigation technician training, landscape irrigation design, certified irrigation designer, and golf irrigation auditor training.   Irrigation technician training is scheduled for May 19-20 (Apopka, Florida), June 16-17 (Sacramento, California), July 21-22 (Pensacola, Florida), Sept. 15-16 (Walnut, California).   Certified irrigation designer training is set for July 13-14 (Tucson, Arizona). Landscape irrigation design is scheduled for May 21 (Apopka, Florida), July 23 (Pensacola) and Sept. 17 (Walnut).   Toro recognizes Reinders
  The Toro Co. presented Reinders Inc. of Sussex, Wisconsin with its 2014 Partner in Excellence award for Best in Parts Operations. Reinders has won the award three times in the past four years.

The award is based on a variety of criteria including overall fill rate, inventory turns, distributor quarterly evaluations, and an on-site visit by Toro personnel. Reinders was recognized for its best business practices relating to order accuracy, delivery time, back-order fulfillment and increasing Toro parts market share. Toro's Partners in Excellence program provides guidelines which focus on key business processes for building a successful distributorship. Reinders' achievement was the result of dedicated efforts from a multitude of its teams ? customer service, operations, outside sales, inside sales support and administration.

Established in 1866, Reinders, Inc. is the Midwest's largest full service distributor of products to the commercial green industry. The company provides turf equipment, parts, fertilizer, grass seed, pond supplies, landscape/seasonal lighting, fungicides, herbicides, insecticides, irrigation products, landscape supplies, ice melt products and more throughout the Midwest with outlets Wisconsin, Illinois, Minnesota and Kansas.