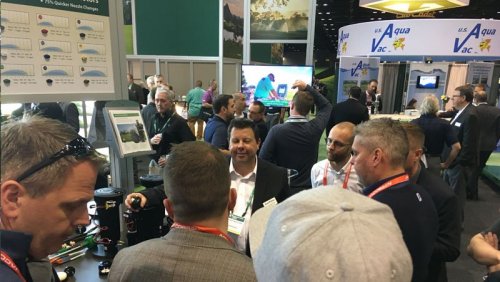 Attendance this year? 'About' the same as last year. There is no question that the Golf Industry Show is nothing like it once was. The decade-plus-long trend of declining attendance and shrinking convention floor space have made measuring shows since the 2008 recession against those before it an apples-and-oranges comparison.
As the GCSAA's largest money maker and the engine that drives member education, its place in the industry cannot be overstated. Given the corresponding trend of industry contraction and changes in the way people gather and consume information, the show also has entered a critical time in which its future and how it will be constructed in years to come must be discussed.
The changing nature of the show is indicative of a few things, among them market contraction (there are 1,472 fewer courses today than there were 15 years ago) and cost of attendance (especially for those whose club will not cover the cost). It also is reflective of a dynamic industry in which it no longer is necessary to get on a plane and spend a week in a hotel to get certified education or learn about the latest and greatest products designed to help superintendents be more efficient.
Not knocking GIS education at all. It is one piece in a puzzle of how many superintendents stay ahead of the curve in an evolving industry. But it does not take a genius to figure out there are many more people in classrooms early in the week than there are on the show floor on Wednesday and, umm, Thursday.
As we've heard over and over during the early days of the presidential primary season, "do the math" and it appears some cracks are starting to show. 
It was easy to look at numbers each year and gauge the health of GIS. The way some of the data are now measured by the GCSAA even makes it a challenge to compare this year's show in Orlando with ones as recent as, oh, last year in San Diego.
Attendance last year was 11,900, including 5,950 folks the GCSAA calls qualified buyers, or those who have the ability to make a purchase agreement on the GIS trade show floor. A total of 510 exhibitors rented 208,650 square feet of space at the San Diego Convention Center. Attendance also included 5,479 education conference seats sold.
How does this year's show compare? That's a good question, but given the reporting of metrics this year, "about" the same will have to do. Gone are the days when GCSAA had ironclad numbers on all its show metrics before everyone left town to return home. I'm sure vendors are privy to exact numbers, but after four requests, we got "about" and "nearly".
Attendance this year was "nearly" 12,000 and there were "nearly" 6,000 qualified buyers, according to GCSAA. The association also said there were "more than" 500 exhibitors and the trade show covered "more than" 450,000 square feet inside the Orange County Convention Center - 450,000.
If that number looks a little off, it should.
That figure is more than double that of last year's show in San Diego and is 50 percent more than 2008 in Orlando. The difference is those shows reported only rented booth space. This year's 450,000 sf includes the GCSAA store and all common areas.
Anyone who remembers that 2008 show in Orlando on the west side of International Drive will recall how massive and daunting that trade show floor was. Navigating this year's show was anything but. It was defined by wide aisles, little competing foot traffic and enough unoccupied space on the periphery to build a small subdivision. 
Requests for specific numbers were met with silence and the reason behind changes to reporting trade show floor space was "This figure give(s) a more clear picture of the trade show floor." So, there you have it.
What we do know for sure is this, there is a loud and clear message that fewer superintendents are unable or unwilling to travel to the show and many who do attend for education fail to find value in the trade show model. 
Changes in technology change the way society works. It's part of evolution. When cars were invented, no one poured more money into the horse and buggy trade, and the Internet has decimated the newspaper industry. Changes to GIS will be necessary at some point to maximize how it best serves GCSAA members, the association itself and those called upon to fund your education.
I recall a discussion with the golf market manager for a very large industry vendor - he no longer is in the business - who told me how he would be happy to donate money for superintendent education but skip the expense of exhibiting at the annual GIS trade show. He also knew he never could follow through because of fear that it would cause a snowball effect and he didn't want to be known as "the guy who killed the Golf Industry Show."
That was in 2005. 
How the GIS model works in the future is up to you, your association and those asked to pay the bills. But before you help decide, you should know all the numbers, not just "about" and "nearly". You deserve more than that.