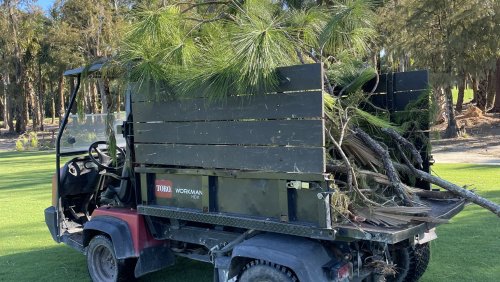 Clean up was minimal at Olde Florida Golf Club in Naples. Darren Davis photo It is difficult to think about the fate of golf courses in the path of a hurricane in the face of so much human suffering.
Hurricane Ian has been blamed for more than 100 deaths in Florida since it plowed through the state Sept. 28 as a Category 4 storm with winds of 155 mph. Days later, rescue teams were still combing the area for survivors as well as victims. The news reports and videos on social media have been horrifying. Wide swaths of homes and businesses in areas like Fort Myers beach, and Sanibel and Marco Islands have been whisked away by Ian's winds while others have been destroyed by storm surge. Sanibel and Pine Islands have been cut off from the mainland due to bridge damage, prompting evacuations of those who stayed behind. 
Conditions on Sanibel Island, which was under curfew from dusk to dawn, are so bad that city government has set up shop in a mainland hotel in Fort Myers. Residents have no idea when they will be able to get back to their homes as the state works on plans to construct a temporary bridge followed by a permanent structure.
Hundreds of golf courses in Florida and South Carolina, where Ian made another landfall on Sept. 30, were in the path of the storm. Some escaped largely unscathed with minor debris clean-up, others sustained major damage while still others were under water.
Social media is filled with photos and videos of golf courses turned into rivers, including Bonita Bay Club in Bonita Springs.
Rainfall totals exceeded 14 inches throughout the Fort Myers area, and 17 inches in parts of metro Orlando and 21 inches at the NASA facility on the state's East Coast.
Even The Villages, which is 50 miles inland, did not escape Ian's wrath. The massive property that spans parts of Sumter, Lake, Marion and Polk Counties, is prone to sinkholes and multiple sinkholes were reported on the El Diablo Golf Course.
Joshua Kelley, director of grounds at The Ritz-Carlton & JW Marriott Orlando, Grande Lakes, posted images on Twitter showing flooding and debris at the course located just minutes from Central Florida's theme parks.
The golf courses at Streamsong Resort, which is about 60 miles due east of the Bradenton area, were closed for a week to allow for clean-up. 
Phone, email and text capabilities in parts of Southwest Florida are, at best, spotty to, at worst, non-existent. Storm surge left places like Sanibel and Marco Island inundated with saltwater, and satellite imagery from the U.S. Geological Survey showed standing water on golf courses on Sanibel. 
Few places could have been hit harder than Kelly Greens Golf and Country Club in Fort Myers, where drone footage by a local TV news station showed most of the property under water.
Darren Davis, CGCS at Olde Florida Golf Club, is no stranger to hurricanes. The course in Naples was rocked in 2017 by Hurricane Irma. Davis was lucky this time, and was almost embarrassed to admit he will be able to reopen in just a few days after Ian with minor debris clean-up. 
"Irma kicked our ass. We had no power, and had to hire a security guard," Davis said, looking back five years. 

Dead fish littered the bunkers at The Ritz-Carlton & JW Marriott Orlando, Grande Lakes more than an hour from the coast. Joshua Kelley photo "The golf course will be open on Friday, and we're opening the clubhouse Tuesday to get some business in there for anyone who wants to come in, although I don't know who is going to be coming out to eat lunch right now."
Davis has been posting to his blog about conditions at Olde Florida so members know what is going on, what to expect and when to expect it.
"If I want my message out in my words, then I better get that blog out," he said. 
"Again, I'm almost embarrassed that we're able to open so soon, while others are dealing with such severe devastation."
Hideaway Beach Club on Marco Island was not as lucky. Storm surge reportedly overwhelmed the maintenance shop and its contents. Davis is lending superintendent Tom Ryon two greens mowers and the local Toro distributor is also coming to Ryon's aid with equipment, as well. 
"He lost all his equipment," Davis said. "He can have those mowers as long as he needs them."
Superintendents coming to the aid of their colleagues is happening throughout the area, said Ralph Dain, the GCSAA field rep for Florida.
"A lot of superintendents are pulling together to help those in the hardest-hit areas," Dain said. "That willingness to pull together and help out colleagues is one of the things that make our industry so special."
As of Oct. 4, Dain had talked to a few superintendents throughout his territory, but has had difficulty reaching those in the most severely affected areas. As a superintendent for 18 years in Florida at places like Sailfish Point in Stuart and Myacoo Lakes Country Club in West Palm Beach, Dain is aware of the drill involved in hurricane response.
Among the main concerns in areas that have been affected the most are prolonged loss of electricity and damage to irrigation systems.
Scores of research conducted over decades by names like Beard, Ervin, Bigelow and Huang have shown that use of surfactants and plant growth regulators can reduce somewhat the need for irrigation.
"If you don't have electricity, or a generator can't get your pump station working, hopefully you have a water tank," Dain said. "That way, you can at least suck water out of the lakes and hand water greens."
Bryan Unruh, Ph.D., of the University of Florida, said many variables will dictate how and when a golf course emerges from the other side of a hurricane, such as how long a course is under saltwater. Today's Bermudagrasses can withstand several days of submersion, he said, and likely will be fine. Turf might be brown for a while, but it will recover, he said.
"Because of our sandy soils, we don't see a lot of salt accumulation," Unruh said. "Even if it is underwater for two or three days, it will come back, even under saltwater."