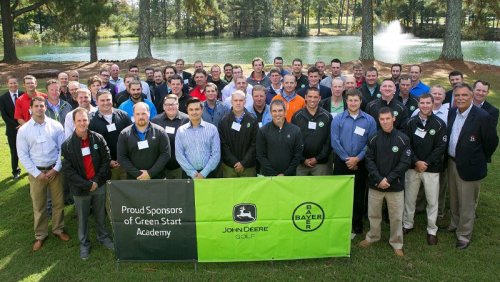 For nearly two decades, Green Start Academy has helped prepare assistant superintendents for the next stage of their careers.
The 17th annual class is scheduled for Dec. 12-14 at Pinehurst Resort. Hosted by John Deere, Bayer and Rain Bird, Green Start Academy is a career-development program covers budgeting, resume writing, networking and more.
Green Start Academy will bring 50 assistant superintendents from throughout North America to Pinehurst for this educational and networking experience. From the lectures and round table discussions with the top leaders in the golf industry to best practice exchanges, Green Start provides assistants with knowledge and tips to help with their professional growth.
Since 2006, the goal of this program has been to help assistant superintendents build a strong foundation for their careers as well as to support the future of golf courses and the entire golf industry by offering growth through networking, professional development courses and interactive peer groups.
Each year's program features educational and mentoring sessions from some of the most respected superintendents and leaders across the industry. The Academy is a chance to forge connections and skills that can last a lifetime.
The application deadline is Aug. 1.