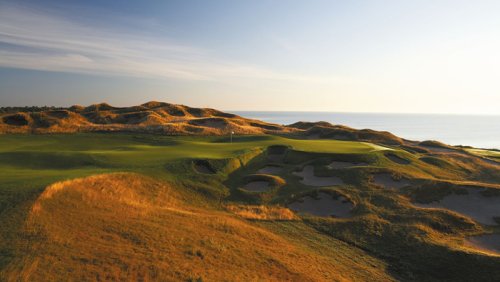 Whistling Straits in Wisconsin was developed by Herb Kohler and designed by Pete Dye. Destination Kohler photo The Kohler Co. looked within to quickly fill the role of board of directors chair after the recent passing of Herb Kohler.
The company's board of directors recently elected Kohler's son, David Kohler (right), as chairman of the board, following the passing of Herb Kohler Jr. on Sept. 3 at age 83.
The board had previously undertaken a comprehensive succession planning process to ensure a quick and orderly transition of leadership to guide the Wisconsin-based company.
David Kohler will chair the board of directors and executive committee, in addition to his role as CEO over all three of the company's the three business groups - Power, Kitchen & Bath and Hospitality.
David Kohler has been with the family run company for 31 years and was named president and CEO in 2015. He had been the organization's chief operating officer since 2009. He is the fourth generation of Kohler family leadership since the company was founded in 1873 by John Michael Kohler as a manufacturer of agricultural implements. He is only the ninth person to lead the company in nearly 150 years.
"I learned so much from my father, including a tireless strong work ethic, leading with candor and humility, and always driving to innovate," David Kohler said. "He believed that you must have passion for whatever you do in life if you want to be successful. Working alongside him for decades showcased the impact of embracing an entrepreneurial spirit, not being afraid to fail, and always striving for accuracy and consistency. He left an indelible mark on me personally and professionally."
David Kohler credits his father as well as golf course architect Pete Dye for affirming Wisconsin's role in championship golf, he continues to broaden the company's influence on the game on an international scale. He served as General Chair of the 2015 PGA Championship at Whistling Straits, which at the time was the highest revenue championship in history.  David also served as General Chair of the 43rd Ryder Cup in 2021 also at Whistling Straits, which many golf experts have proclaimed as the best-ever in the international event's storied 94-year history.
Under David Kohler's tenure as president and CEO, the company surpassed $8 billion in annual revenues in 2021. The Power Group has experienced sustained growth globally, including the acquisition of U.K.-based Clarke Energy in 2015 and the 2021 acquisitions of Curtis Instruments (electric vehicle controls) and Heila Technologies (microgrid software controls).