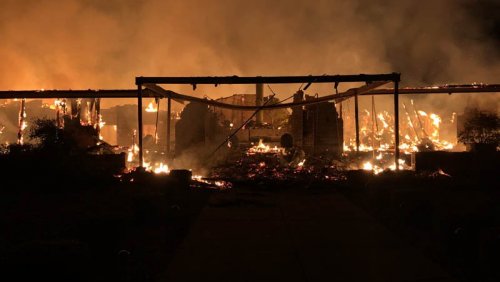 Fire gutted the clubhouse at Indian Hills Country Club in Bowling Green, Kentucky. Photos courtesy of Bob McLean. The sight of players on the golf course is always a good sign for those with a vested economic interest in the well being of the game. But golfers on the tee never looked as good to superintendent Bob McLean as they did on Sunday, Dec. 8 when six groups showed up to play less than 24 hours after a fire destroyed the clubhouse at Indian Hills Country Club in Bowling Green, Kentucky.
"We are open for play if weather allows. The ashes were still smoldering and there were six groups out to play Sunday morning," McLean said. 
"To be honest, it was a good sight to see people coming out and doing what we are here to do. The golf course wasn't affected by the fire, and we're still a golf club. That's what we are: we are a golfing club."
The golf course itself as well as the maintenance facility and all equipment inside it were spared in the blaze, but the clubhouse was a total loss. Before local and state fire inspectors were able to complete their respective investigations into the cause of the blaze, the club already had brought in two construction trailers, one as an administrative office, the other as a makeshift golf shop.
"There's nothing in there except a place to set up (point of sale)," McLean said. 
"As far as our operations side of it, we're still full go. It could have been traumatic from an operations standpoint, but we're still full go. Now, it was traumatic for our members. We're discussing other plans on what else we can do as a gathering place for members.
"We're trying to get some sense of normalcy and conduct business."
Firefighters from four companies responded Saturday night when the fire broke out in the clubhouse at 7:38 on Dec. 7. McLean, who was home watching the NHL's Nashville Predators on TV, said he knew something was up somewhere in Bowling Green when heard numerous emergency outside his family room window. Several members of the club were at the Western Kentucky University-Arkansas basketball game at nearby Diddle Arena when they began receiving text messages and phone calls about the fire.
"I got my vest and got there as quickly as I could," McLean said. "I was going to go inside and try to get our server.
"The fire department wasn't letting me in, and everything had just been backed up onto the cloud."

As news of the fire made its way around the Internet, McLean received an outpouring of support from colleagues and others throughout the industry, many of whom he didn't know. He also heard from Shelia Finney of the GCSAA and Paul Carter of Bear Trace at Harrison Bay near Chattanooga, Tennessee with offers of support. McLean said he would like to hear from others in the industry who have gone through similar situations and how they navigated through the challenges associated with the aftermath.
"This industry really is like a fraternity," he said.
The site of golfers on the course as the clubhouse remains were smoking in the background was symbolic of the strength of the club and the dedication of its members.
The club was scheduled to hold its annual Christmas party on Dec. 15, complete with a visit from Santa for children and grandchildren of the club's members. Even a fire couldn't dampen the Christmas spirits at this club.
Instead of just pizza, a visit from Santa and presents for the kids, the club's members are counting their blessings by holding a potluck in the cart barn. They have invited firefighters from the four departments that responded to the blaze - Bowling Green, Alvaton, Gott and Plano - will hold a toy drive to support their Toys for Tots drive.
"We cleared out the cart barn, and some ladies came in with lights and they're going to decorate it," McLean said. 
Within 48 hours, club leadership had met to discuss preliminary plans to rebuild the clubhouse. 
"This isn't going to define us or keep us down," McLean said. "I've been here for 26 years. This is a great club with great members, and we're going to get through this. It's going to take some time, but we'll all come together and get through this. Hopefully, by this time next year we'll have a grand opening and a Christmas party."