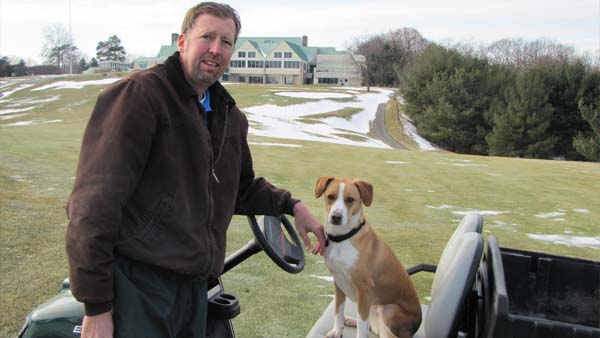 There is no evidence that 19th century French novelist Jean-Baptiste Alphonse Karr ever visited Pittsburgh. It's also pretty doubtful he was thinking of the steel city when he coined his now-famous phrase (in French, of course) "The more things change, the more they stay the same."
 
Those words certainly apply in part to Eric Wygant's situation at Shannopin Country Club. When Wygant took over as superintendent at the Pittsburgh country club 16 years ago, his maintenance budget was $687,000 - probably a pretty tidy sum in those days. Today, Wygant's budget has barely budged to $690,000.
 
Keep in mind, golfer demands for exceptional conditions have not remained static during that time. Greens are faster now, bunkers and tees are in better shape, the fairway has a second cut, and he has had fewer workers with which to accomplish this.
 
Not only have Wygant managed to pull off the near impossible over the past decade-and-a-half, he's improved staff morale in the process and he has members singing his praises.
 
For his ability to pull a budgetary rabbit out of his hat for so long and produce one of the best conditioned courses in the Pittsburgh area, Wygant has been named one of 10 finalists for the 2014 TurfNet Superintendent of the Year Award, presented by Syngenta.
 

Finalists are chosen by a panel of judges from a field of nominees based on the following criteria: labor management, maximizing budget limitations, educating and advancing the careers of colleagues and assistants, negotiating with government agencies, preparing for tournaments under unusual circumstances, service to golf clientele, upgrading or renovating the course and dealing with extreme or emergency conditions.
 
The winner will be named Feb. 26 at the Golf Industry Show in San Antonio. Previous winners include: Chad Mark (2013); Dan Meersman (2012); Paul Carter, CGCS (2011); Thomas Bastis, CGCS (2010); Anthony Williams, CGCS (2009); Sam MacKenzie (2008); John Zimmers (2007); Scott Ramsay, CGCS (2006); Mark Burchfield (2005); Stuart Leventhal, CGCS (2004); Paul Voykin (2003); Jeff Burgess (2002); Kip Tyler (2001); and Kent McCutcheon (2000).
 
Employee morale already was down when Wygant arrived at Shannopin and had a staff of 20. Sixteen years later, with no money infused into the system, there was every excuse for morale to sink even lower, but it hasn't. That's a credit to Wygant's team-building skills as well as his ability to reorganize priorities and spread the money he does have around so it's spent as wisely as possible. Oh, and today he has a staff of 12, six of which are full time employees and six of which are seasonal.
 
When it was time to rebuild bunkers, Wygant's crew did all the work themselves to save money. Today, they're not raked as often as they could be, and high-cut areas are mowed less frequently, but those are the tradeoffs that must be made to keep greens rolling at 13 (they rolled at 10 when Wygant started here) and adding a double-cut to the fairways.
 
"We get used to it," said Wygant, 41. "We have tough skin, and this is a tough course, and Pittsburgh is fortunate to have it."
 
The crew has bought in to Wygant's philosophy. Three members of his full-time crew of six have been at Shannopin since Jimmy Carter occupied the White House.
 
To make the most of his budget-scrimping skills, Wygant shops far and wide to get the best deal on replacement parts, makes equipment last long beyond its useful life expectancy and completes course-improvement projects with his humble in-house crew. To raise additional funds he has published and sells informational greens fee booklets to golfers, with all proceeds going into a course-improvement fund.
 
Members are sold, too.
 
Wygant's nomination letter was signed by 15 members with a cumulative 374 years of history with the club.
 
"He has accomplished so much with less, and no membership complaints, because he has developed a harmonious relationship with Shannopin board members and the entire membership over the years," wrote Shannopin member Gini Musmanno. "By fully explaining how and why he might scale back changing cup placements, raking bunkers, buying flags, etc., he has created support within the club."
 
For Wygant and his crew, it's just a matter of doing what needs to be done.
 
"It's just a matter of reorganizing how things are done. Everyone is cutting back on some things that aren't as noticeable," Wygant said. "We don't rake as much as we used to. In high-cut areas, we reducing mowing frequency, and we're converting out-of-play areas to wildflower areas.
 
"We have to do the stuff that members will notice. The other stuff will get done in its own time.
 
"It also means reorganizing the crew. We had 20 guys when I started in 2000. Now, we have 12. We have to be organized and have a routine."