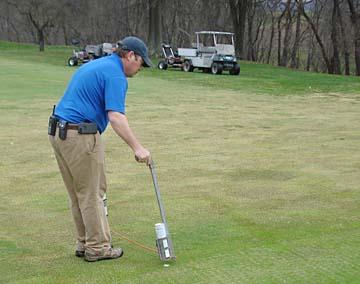 2013 Superintendent of the Year finalist


Josh Saunders, Longue Vue Club, Penn Hills, Pennsylvania

When a member accuses a golf course superintendent of turning a course upside-down, it usually is not meant as a compliment.
 
In the case of Josh Saunders, the topsy-turvy description of his first year at Longue Vue Club in Penn Hills, Pa., is a term of endearment.
 
Conditions at the course near Pittsburgh had slipped in recent years beyond a point with which members had become accustomed. Upon the start of his tenure that began on New Year's Day, 2013, Saunders immediately set into motion a new agronomic program and management style that pumped what some have called a much-needed breath of fresh air into the golf course, crew and membership. And the result is a well-maintained piece of property that is managed by an engaged crew and enjoyed by an informed group of members.
 
"During his short tenure, he has done remarkable things and the course conditioning has improved dramatically," wrote Longue Vue member David Koi in his nomination of Saunders for TurfNet's 2013 Superintendent of the Year Award.
 
"With Josh at the helm, many of our members feel that Longue Vue has been restored to its long tradition of greatness."
 
Presented by Syngenta, the award winner will be announced Feb. 6 during the Golf Industry Show in Orlando, Fla.
 
Some of the words used to describe conditions at Longue Vue upon Saunders' arrival included "bad shape", "unplayable" and "horrific."
 
Today, members use words like "magnificent" and "pristine" when describing playing conditions at Longue Vue.
 
Saunders, who came to Longue Vue from Kinloch Golf Club in Virginia where he had been an assistant, said his first order of business was creating a new culture at the club in western Pennsylvania. 
 
That started with instilling more discipline in his crew, which he termed "instituting an attention-to-detail policy" by retraining and reinvigorating his crew. From implementation of a staff uniform policy to addressing placement of rakes in bunkers to how and when divots are filled to respecting pace of play while conducting on-course activities, Saunders constructed from his staff an entirely new crew.
 
"Implementing a change in culture philosophy was the driving force to the success of the turnaround that we experienced over the past season," Saunders said. "The change started with staff development and training and educating a tenured greens department about instituting the techniques, practices and protocols I learned during my tenure as a top assistant at Kinloch Golf Club. Improving playability and turf health provided the foundation toward turning the corner, and the entire greens department quickly bought into my system."
 
In the past, Longue Vue also had been plagued by disease issues, such as wet wilt, that Saunders said were attributed to over watering. In an effort to minimize such threats he cut back on use of irrigation water, and he also began using walk mowers, and implemented new chemical and fertility programs.
 
With his plan in motion, Saunders' next step was to educate Longue Vue's members about what was happening in relation to restoring their golf course, which he accomplished through social media and a blog.
 
"Aside from the course itself," said club member John Dick, "Josh has engaged the members on an entirely new and constructive level, even taking to Twitter on a daily basis to keep everyone informed about his progress, completed work, and even the daily pin placements."
 
Saunders says he can't take all the credit for his philosophy, admitting he stole much of his ideology from his mentor and former Kinloch superintendent Pete Wendt, CGCS.
 
"My mentor gave me good advice: In order to be an effective manager, you have to be an effective communicator," Saunders said. "That philosophy clearly has contributed to the turnaround."