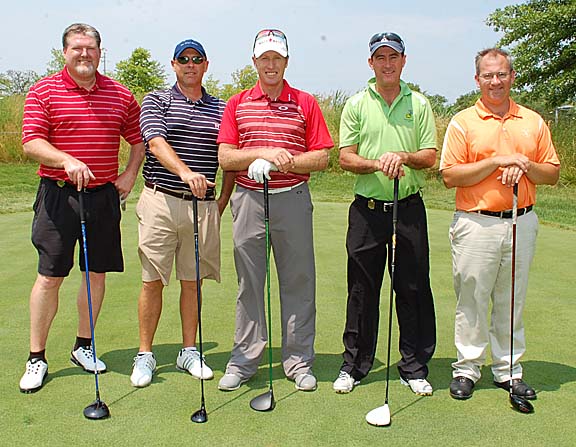 Waite leads 3 superintendents to win in John Deere Pro-Am
 
Talk about global appeal. Leading the winning team at this years John Deere Classic Superintendent Pro-Am was PGA Tour professional and New Zealand native Grant Waite. He was joined by Jason Manfull of Crow Valley Golf Club in Davenport, Iowa; Rich Hohman, president of Kitson and Partners, Palm Beach Gardens, Fla., and Ben Tilley of Headland Golf Club in Queensland, Australia. The winning team emerged from the 28-team field with a net 54. Held July 8, the event is conducted annually in conjunction with the PGA Tours John Deere Classic at TPC Deere Run in Silvis, Ill.
 
Representing John Deere in the winning group was Rob Jeske, general manager of corporate business for the company's agriculture and turf division.
 
Rich Hohman of Kitson and Partners; Rob Jeske general manager of corporate business for John Deere Agriculture and Turf; PGA Tour player Grant Waite; Ben Tiller of Headland Golf Club; and Jason Manfull of Crow Valley Golf Club won this years John Deere Classic Superintendent Pro-Am at TPC Deere Run.
 
Bayers Tribute Total OKd for use on zoysia
 
The U.S. Environmental Protection Agency has approved Bayers Tribute Total herbicide for use on Zoysiagrass.
 
With the active ingredients foramsulfuron and thiencarbazone-methyl, Tribute Total is labeled for control of 55 varieties of grassy and broadleaf weeds, including creeping bentgrass, ryegrass, crabgrass, goosegrass and dollarweed.
 
Bayer Environmental Science launched Tribute Total in May 2012 for use on Bermudagrass.
 
Tribute Total can be tank mixed with pre-emergent and other post-emergent pesticides, and should not be applied within eight weeks of overseeding.
 
For more information, visit www.backedbybayer.com.
 
Simplot acquires some seed varieties from Scotts
 
The J. R. Simplot Co. and the Scotts Co. recently finalized an agreement to transfer several turf seed programs, including Sea Spray Seashore paspalum, from Scotts to Simplot. Scotts has been communicating to customers and partners that as part of their divestiture from the professional seed market, they have been looking for a suitable partner to take certain programs. 
 
Other seed programs included in the deal include three Kentucky bluegrasses; Midnight, Midnight II and Midnight Star.
 
Along with these programs, Simplot also welcomes Gordon Zielinski who will manage the paspalum program and perform other duties. Zielinski was formerly a director of Pure-Seed Testing Inc., and the CEO of Turf Seed Inc., and most recently worked with Scotts as director of international seed sales.  
 
In other news, Jacklin Seed by Simplot named Katie Dodson senior turfgrass scientist.
 
She will conduct research trials that help demonstrate the benefits of Jacklin turf seed varieties.
For more information, visit www.simplot.com.