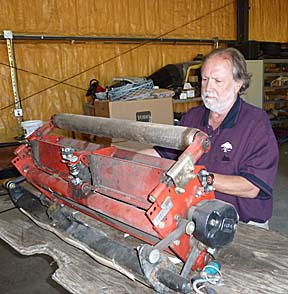 Anyone unsure of Brian Sjögren's work ethic could have learned all they needed to know after an impromptu safety meeting recently at the central Californian golf course where he has worked for more than 20 years.
 
The meeting was called as a ruse to assemble the crew at Corral de Tierra Country Club to discuss safety issues over lunch. A wrinkle in the program came when Sjögren, 58, was awarded the TurfNet 2013 Technician of the Year Award, presented by Toro. Shortly after the gathering adjourned the crew went back to work, including Sjögren who had been busy with a multitude of tasks, including rebuilding mowing reels. In his rush to get back to the shop, he'd left his award on the table where he and co-workers had been eating lunch just minutes before.

"Did he forget it? I'm not surprised," said superintendent Doug Ayres as he looked down and gathered up the Golden Wrench Award to return it to its rightful owner.

Sjögren is a self-taught mechanic who can fix or make just about anything, a brute with vendors over pricing, an amateur civil engineer who designs and builds bridges and a wildlife enthusiast who enjoys the company of wild birds that have nested inside the maintenance shop and eat from a feeder erected in a flower bed outside its doors.
 
Sjögren was selected from a list of three finalists that also included Jonothon McGuigan of Fox Meadow Golf and Country Club on Canada's Prince Edward Island and Ed Greve of Highland Woods Golf Course in Hoffman Estates, Ill.
 
TurfNet has been presenting the award annually (almost) to a golf course equipment manager who excels at one or more of the following: crisis management, effective budgeting, environmental awareness, helping to further the careers of colleagues and employees, interpersonal communications, inventory management and cost control, overall condition and dependability of rolling stock, shop safety and work ethic.   Previous winners include Kevin Bauer, Prairie Bluff Golf Club, Crest Hill, Ill. (2012); Jim Kilgallon, The Connecticut Golf Club, Easton, Conn. (2011); Herb Berg, Oakmont (Pa.) Country Club (2010); Doug Johnson, TPC at Las Colinas, Irving, Texas (2009); Jim Stuart, Stone Mountain (Ga.) Golf Club (2007); Fred Peck, Fox Hollow and The Homestead, Lakewood, Colo. (2006); Jesus Olivas, Heritage Highlands at Dove Mountain, Marana, Ariz. (2005); Henry Heinz, Kalamazoo (Mich.) Country Club (2004); Eric Kulaas, Marriott Vinoy Renaissance Resort, St. Petersburg, Fla. (2003). No award was given in 2008.  
Since Ayres arrived at Corral de Tierra eight years ago, he has undertaken one giant project after another. In that time, he has accumulated a vast inventory in turf maintenance equipment that must be operational on a moment's notice.

"We do a lot of projects here, and if something breaks down, we need to get it back out here quick," said assistant superintendent Rick Smith. Having somebody like Brian who is a good troubleshooter is huge. He can figure things out pretty quickly and get it back out on the golf course."

Sjögren has been working on cars since his days as a student at nearby Pacific Grove High School. He started working on Volkswagens and his parents' cars, before graduating to more complex projects.

His career in the golf business began 29 years ago when he was mowing greens and raking bunkers at Quail Lodge and Golf Club in Carmel Valley. He also spent a two days each week helping the club's mechanic in the shop and filled in when the tech was on vacation.

Since then, he has become an integral part of the team at Corral de Tierra.

If a project requires a specialized tool that has yet to be invented, Sjögren will build it. He also maintains a lean inventory that includes only the most oft-used parts. If he doesn't have what he needs, he scours the Internet for the best price, even if, in some cases it means having something shipped from around the world.

He also manages a biodiesel-production program in which he makes about 40 gallons of fuel per week from used cooking oil he gets from the Corral clubhouse as well as from nearby Pasadera Country Club.

In 2012, that program yielded about 2,000 gallons of biodiesel produced at a cost of 90 cents per gallon, vs. the $4-plus per gallon rate for standard diesel fuel, resulting in a savings of about $6,000 in fuel costs, Ayres said.

The program has been so successful that the Toro Workman Ayres uses to get around the course has never used anything but biodiesel concocted by Sjögren.

Sjögren's contributions to the maintenance operation at Corral de Tierra, located between Monterey and Salinas, go far beyond rebuilding mowers, grinding reels, ordering parts and managing an inventory of $2.4 million in machinery and equipment. He also plays an active role in planning and managing many of these projects, helping take them from the drawing board to completion.

"In order to accomplish all the massive projects and changes over the last eight years, I have counted on Brian to help think out innovation solutions to all my problems," Ayres said.

Help from assistant technician Mario Gonzalez frees up Sjögren to take on some of Corral's bigger projects.

In the recent past, Sjögren has helped design and build bridges able to withstand mower and tractor traffic, a skill he learned on-the-job at Corral de Tierra. In fact, he'd built several bridges at the club before Ayres arrived on the job. When his new boss didn't like the design of one of the bridges on the course, Sjogren altered the design, copying from a vehicle bridge he'd seen at Pfeiffer Big Sur State Park.

The only problem for Sjögren was that the railings were too heavy and caused the bridge to sway, a problem rectified by the addition of buttress supports.

"After that, it was fine," Sjögren said.

The modular design also means that if individual parts of the bridge fail in the future, it can be dismantled in piecemeal fashion and repaired without deconstructing the entire bridge.

"With the first bridge we did at No. 3, there are some imperfections. Someone else might not notice them, but I can see them," Sjögren said. "But after the first one we did, each one got better, looked better and was done faster each time.

"We've always been good about doing projects over the years, but since Doug has been here we've taken on big projects. And it's been good experience. People now are more likely to go headlong into a project where before they might have been more hesitant."

Sjögren went above and beyond the call of duty of any equipment manager in 2011 when he and Ayres inspected the clubhouse after they received a call from someone saying they could smell natural gas outside the building near the club's No. 9 green.

Closer inspection revealed a 1-inch hole in a gas line. Exhaust fans left on in the clubhouse were sucking the gas out of the building where gravity was at work, causing the fumes to settle down over the golf course.

While the pair were inspecting the line, a spark ignited the gas, causing a huge flash that enveloped his superintendent's head.

"Doug was in shock for a while, I could tell," Sjögren said. "We high-tailed it out of there and hit the fire alarm.

Actually, Sjögren made a stop along the way, warning members in the club's fitness center to get out.

"The gas had been on all night," Ayres said. "If the exhaust hadn't been on, the whole building would've blown at some point."

Both emerged relatively unscathed, save for some singed eyebrows on Ayres' face and what he described as a glowing complexion that resembled a sunburn.

"There was supposed to be an emergency on-off valve, but there were no signs and we couldn't find. When we eventually did, the handle was missing," Sjögren said. "We were pretty lucky. Someone from the fire department told us we should buy a lottery ticket."